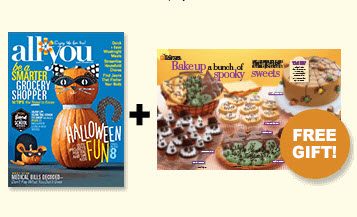 Get 11 or 22 issues of ALL YOU for just $1 per issue! Plus FREE Spooky Sweets Recipe Guide!
Click HERE to purchase All You Magazine.
New to All You Magazine?

All You is full of high-value manufacturer coupons. The value of coupons in each issue far outweighs the cost of the magazine itself. You will more than make your money back in coupons with each issue. Not only is the All You Magazine filled with money-saving coupons; you'll find budget advice, success stores/tips, affordable clothing and more!