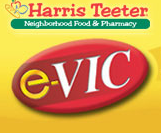 Check your Harris Teeter e-VIC email to see what specials are available to you. E-VIC specials are specific to each household. There are 4 lists below. You can ONLY get the deals from YOUR email list.
What are e-VIC coupons?
E-VIC Coupons are electronic coupons and promotions available to you through the e-VIC program. When you purchase the qualifying products and when your purchase meets the redemption requirements of an e-VIC Coupon, the savings are automatically applied to your order. Paperless coupons will be redeemed for face value only and are limited to 1 usage per transaction. The great part about e-VIC coupons is that you can "stack" these coupons with paper coupons to save even more! You must register onlineto participate in the e-VIC program.

My Email List:
Green & Black's Organic Chocolate Bars, 3.5 oz., FREE
Limit 1
Tide Detergent, 138-150 oz., $14.97
Limit 2
$2.00/1 Tide Detergents – 9-27-15 PG; Excludes Trial and Travel Size, Simply Clean & Fresh, Clean & Sensitive, PODS, and 10 oz; Limit 4 Like Coupons Per Household Per Day (exp 10/24/15)
Final: $12.97
Haagen-Dazs Ice Cream, 14 oz., $2.97
Limit 4
Yoplait Yogurt, 4-6 oz., $0.37
Limit 10
$0.50/5 Yoplait Yogurt Cups; Includes Original, Light, Light Thick & Creamy, Thick & Creamy, Whips!, Lactose Free, Greek, Greek 100, or Greek 100 Whips!
$0.50/5 Harris Teeter E-VIC Digital Coupon
Final: 7¢ each when you stack manufacturer coupon with e-VIC coupon. (Also get 5 HT brand low fat yogurt for FREE)
Farmers Market Grape Tomatoes, 1 Pint, $1.47
Limit 4
General Mills Cereal, 10.5-18 oz., $1.97
Cheerios, Honey Nut Cheerios, Cinnamon Toast Crunch, Trix, or Golden Grahams
Limit 4
$1.00/2 General Mills Cheerios Cereals; Includes Original, Honey Nut, Multi Grain, Multi Grain Peanut Butter, Apple Cinnamon, Frosted Cheerios, Chocolate, Banana Nut, Fruity, Honey Nut Medley Crunch, Multi Grain Dark Chocolate Crunch, Protein, or Ancient Grains
$1.00/2 off Cheerios Harris Teeter E-VIC Digital Coupon
$1.00/2 General Mills Big G Cereals; Includes Cinnamon Toast Crunch, Cocoa Puffs, Lucky Charms, Trix, Reese's Puffs, Cookie Crisp, Golden Grahams, Kix, Dora the Explorer, Hershey's Cookies 'n' Creme, or SpongeBob SquarePants
Final: As low as 97¢ wyb 2 Cheerios and stack manufacturer coupon with e-VIC coupon.
Deer Park Water, 24 pk., $2.97
Limit 4
$0.75/1 Deer Park brand 100% Natural Spring Water – 8-23-15 RP; Includes 12 pk 12 oz bottles (exp 11/01/15)
Final: $1.47 each
Dove Bar Soap, 2 ct., $1.97
Limit 4 [Continue reading]