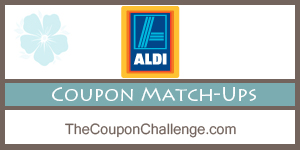 The Aldi Mid-Atlantic Deals have been updated! Please see the Aldi Deals Page for the complete list of sale ad deals.
Aldi's Stores do not accept coupons!
Bring a quarter as a deposit to get a cart. The quarter is reimbursed to you when the cart is returned.
Bring in your own reusable grocery bags or you'll be charges a small fee at checkout.
Most products sold at Aldi are store brand or private label.
Aldi has a Double Guarantee if for any reason you are not 100% satisfied, they will replace the product AND refund your money.
Aldi Mid-Atlantic covers: DC, West Virginia, Virginia, Maryland, Pennsylvania
See Aldi Policy here.
Breakfast & Cereal
Fit & Active Vitality Cereal, 11.2 – 12.4 oz – $1.89
Vanilla Almond or With Red Berries.
Cookies, Snacks & Candy
Elevation by Millville Protein Powder, 2 lb – $15.99
Vanilla or Chocolate.
Elevation by Millville Pure & Simple Bars, 5 ct – $4.49
Frozen Foods
Mama Cozzi's Pizza Kitchen Chicken Fajita or Taco Pizza, 15.25 – 15.65 oz – $2.99
Meat, Poultry & Fish
Chicken, Thighs, per lb – $1.49
Starts Wednesday, January 113 lb average weight
Pork, Loin Half, per lb – $1.69
Produce
Apples, Honeycrisp, 2 lb bag – $2.19
Blueberries, 6 oz – $1.49
Spinach, Baby, Organic, 5 oz – $1.99
Miscellaneous
Huntington Home 24″ L x 17″ W Memory Foam Bath Mat – $3.99
Huntington Home Scented Wax Melts – $1.69