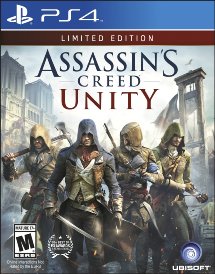 Order Assassin's Creed Unity – Limited Edition – PlayStation 4 for $9.99 – was $19.99!
About the Product
UNIQUE CO-OP EXPERIENCE YOU MUST PLAY TO BELIEVE: In addition to an epic single-player campaign, join with up to three friends online and experience the open world of 18th-century Paris

A RUTHLESS NEW HERO FOR A BRUTAL WORLD: Play as Arno, an entirely new breed of Assassin, and take down your prey with a range of new weapons such as the Phantom Blade, a hidden blade with crossbow capabilities

BRAND-NEW PARKOUR, COMBAT, AND STEALTH GAMEPLAY: Enjoy an unprecedented degree of freedom and control over your Assassin. Full motion control with new parkour mechanics for free running up, across, and down city walls and buildings

DEEP CUSTOMIZATION OF ARNO, THE MASTER ASSASSIN: Craft a unique play style by choosing weapons, gear, outfits, and specialized skills. Mix and match from hundreds of possible combinations and build your stealth, fighting, and navigation abilities

DISCOVER REVOLUTIONARY PARIS, BROUGHT TO LIFE AS NEVER BEFORE: Carve through the stunning full-scale open world city, a feat only made possible through the power of an all-new game engine
Your order will qualify for FREE shipping with Super Saver Shipping on orders over $49 or with Amazon Prime or order of $25 if purchasing eligible books. You can also sign-up for a FREE 1-month trial of Amazon Prime HERE to test it out and see if it works for you.
Amazon Prime offers multiple benefits including:
FREE Two-Day Shipping for eligible purchases.
Access to Amazon Instant Video
Ability to borrow books from the Kindle Owners' Lending Library.
Product prices and availability are accurate as of the date/time indicated and are subject to change. Any price and availability information displayed on amazon.com at the time of purchase will apply to the purchase of this product.
Check out these other Amazon Deals: