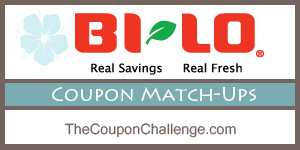 Bi-Lo Grocery Store Coupon Matchups are done! Please visit the new Bi-Lo coupon matchups page for a complete list of deals! Make sure you are viewing the tab for the correct date. Let me know what else you find or if you have corrections!
Double coupons with a face value of up to $0.60
Stores may not double coupons that state "Do Not Double"
Some Bi-Lo's take a limited number of competitor coupons – check with your store for details
Bi-Lo has Buy Theirs ~ Get Ours Free coupons on their site, you must login to see them!
A Special on Large Eggs .50¢ When you buy $30 in Groceries; Limit 1 while supplies last; Friday, Saturday and Sunday Only!
This ad contains a special 2 day weekend sale May 7 – 8
BI-LO does not accept any type of coupon for "Meal Deal or What a Deal" free items
Multi-Item Deals
Stouffer's Lasagna Meal Deal
Mrs. Smith's Cobblers, 32 oz
Must buy Stouffer's Party Size Lasagna for meal deal; Limit 1 per order
Pepperidge Farm Garlic Texas Toast, 11.25 oz
Must buy Stouffer's Party Size Lasagna for meal deal; Limit 1 per order
Pictsweet Deluxe Steam'ables Vegetables, 8 – 10 oz
Must buy Stouffer's Party Size Lasagna for meal deal; Limit 1 per order
Stouffer's Party Size Lasagna, 90 oz – $14.95 – Get PictSweet Steam'ables; Mrs. Smith's Cobbler and Pepperidge Farm Garlic Texas Toast FREE with purchase
Must buy Stouffer's Party Size Lasagna for meal deal; Limit 1 per order
Weekend Sale May 7 & 8, 2016
Bounty Basic Paper Towels, 6 Big Rolls – $4.00
Limit 4
Final Price: $3.50
Check your store coupon policy; some stores do not allow coupons with weekend sales
K-Cup or Single Cup Packs – $5.00
Limit 7Includes ALL KCups
$1.50/1 Community Coffee K-Cups Box or Bag – 3-13-16 RP (exp. 05/08/16)

$5.00 Starbucks eGift Card WYB (3) Starbucks Products – Rebate; Includes Packaged Coffee, 10 oz or Larger Only; Starbucks or Tazo K-Cups, 10 or 16 ct Only; Starbucks VIA Instant Coffee, 5 ct or Larger Only; Tazo Tea Filterbags or Tazo Tea Latte Concentrates; Frappuccino Chilled Coffee Drink, 4 pk Only; or Doubleshot, 4 pk Only; Hot Cocoa, 8 pk Only; or Iced Coffee, 4 pk Only

$10.00/5 Keurig 2.0 Brewer AND (4) Green Mountain, Donut House, Donut Shop or Eight O'Clock Coffee K-Cup Pods (Publix Coupon) – Savings In Bloom Grocery Advantage (Valid from 5/7/16); Includes Pods, 10 – 12 ct Only (exp. 05/27/16)
Price depending on variety purchased with coupon
Keebler Oatmeal Cookies, 12 – 13 oz – $1.80
Limit 6
Final Price: $0.80
Keebler Sandies Cookies, 12 – 13 oz – $1.80
Limit 6
Final Price: $0.80
Nestle Drumstick, 4 ct – $3.00
Limit 4
Final Price: $2.25
B1G1
Bush's Cocina Latina Beans, 15.5 – 16 oz – $1.69 – B1G1
$1.00/1 Bush's Cocina Latina – 5-1-16 SS (exp. 06/19/16)
Out-of-Pocket Price: $0.00
Final Price: Free
Buy 2; Use (2) $1/1 coupons and Checkout 51 rebate
Crystal Light on the Go Sticks – $2.99 – B1G1
$1.00/2 Crystal Light Liquid or Powder Drink Mixes – 4-10-16 SS (exp. 05/28/16)
Final Price: $0.99
Keebler Chips Deluxe, 11.6 – $3.89
Final Price: $0.95
Marie's Salad Dressings, 11.5 – 12 oz – $3.50 – B1G1
Final Price: $0.75
Matlaw's Stuffed Clams, 9 pk 20 oz – $9.99 – B1G1
Final Price: $3.99
Peter Pan Peanut Butter, 13 – 16.3 oz – $2.99 – B1G1
Final Price: $1.75
Purex Liquid Laundry Detergent, 24 – 33 ld – $4.99 – B1G1
$0.50/1 Purex Liquid Detergent – 5-1-16 RP (exp. 05/08/16)
Final Price: $1.50
Buy 2; use (2) .50/1 coupons that double to $1/1 – save more when you buy $12 or more and submit rebate
Zatarain's Dinner Rice Mixes, 7 – 8 oz – $1.99 – B1G1
$0.50/1 Zatarain's Rice Mix – 5-1-16 RP (exp. 06/12/16)

$1.00/3 Zatarain's Rice Mixes – 5-1-16 RP (exp. 06/12/16)
Final Price: Free
Buy 2; Use (2) .50/1 coupon that doubles to $1/1
Frozen Foods
Nestle Toll House Cookie Dough – $2.50
$0.50/1 Nestle Toll House Frozen Cookie Dough – 1-3-16 SS (exp. 06/30/16)
Out-of-Pocket Price: $1.50
Final Price: $1.00
Buy 2; use (2) .50/1 (doubles to $1) and after ibotta rebate
Fuel Rewards
Earn .05 per gal for every 2 purchased
Kellogg's Eggo Waffles, 12.3 oz – $2.50
Final Price: $1.50
Grains, Pasta & Sides
Maruchan Ramen Souper, 6 pk 18 oz – $1.00
$1.00/2 Maruchan Bowls – 4-24-16 SS (exp. 07/31/16)

$1.00/3 Maruchan Yakisoba Products – 4-24-16 SS (exp. 07/31/16)
Final Price: $0.50
Personal Care
Clairol Natural Instincts Hair Color – $6.00
$2.00/1 Clairol Hair Color – 5-1-16 PG; Excludes Age Defy; Excludes Trial and Travel Size; Limit of 4 Identical Coupons Per Household Per Day (exp. 05/14/16)

$5.00/2 Clairol Hair Color Boxes – 5-1-16 PG; Excludes Age Defy, Balsam, and Textures & Tones; Excludes Trial and Travel Size; Limit of 4 Identical Coupons Per Household Per Day (exp. 05/14/16)
Final Price: $3.50
Buy more save more with $15 rebate
Pet Care
Alpo Meal Helpers, 72 oz – $6.00
New Item
Final Price: $4.00