This Busch Gardens Halloween Coupons page will be updated throughout the season as deals become available.
Busch Gardens Halloween Coupons:
Groupon is offering $45 for Howl-O-Scream Admission!  This is the BEST Price we have seen so far!  Valid on select dates between September 12 and October 24, 2014. Not valid for use on October 11, 18, 25, or 26.
Expires Oct 24th, 2014. Limit 5/person. May buy 5 add'l as gifts. Operates in all weather. Valid select dates between Sept 12-Oct 24, 2014. Not valid for use on Oct. 11, 18, 25 or 26. Not valid for parking, tours or dining. NO REFUNDS. Operating hours are subject to change without notice. No guests in costumes admitted. Notwithstanding anything to the contrary in this voucher or elsewhere, Groupon is the seller of this voucher and merchant shall have no responsibility other than honoring this voucher for the stated admission purpose and only during the stated promotional period. Merchant is solely responsible to purchasers for the care and quality of the advertised goods and services.
Offer expires 9/17 unless it sells out early.   Click HERE to order!
Are you planning to visit the Busch Gardens Halloween event? Howl-o-Scream at Busch Gardens is always fun during the day and spooky at night.
Howl-o-Scream at Busch Gardens is open Fridays, Saturdays and Sundays from September 12th – October 26th. The park opens at 10 am and the frights begin at 6pm. The park closes at 10pm. If you have kids, I suggest leaving the park before it gets dark.
There are several new features added to Busch Gardens Howl-o-Scream this year including Wendigo Woods, Monster Stomp on Ripper Row, Dining and Spirits, Vampire Vogue shopping as well as a new Fright song.
Howl-o-Scream Ticket Prices:
Do you enjoy Howl-o-Scream at Busch Gardens? Save with these Busch Gardens Halloween Coupons!
Click HERE to order tickets and checkout all the Busch Gardens Halloween fun!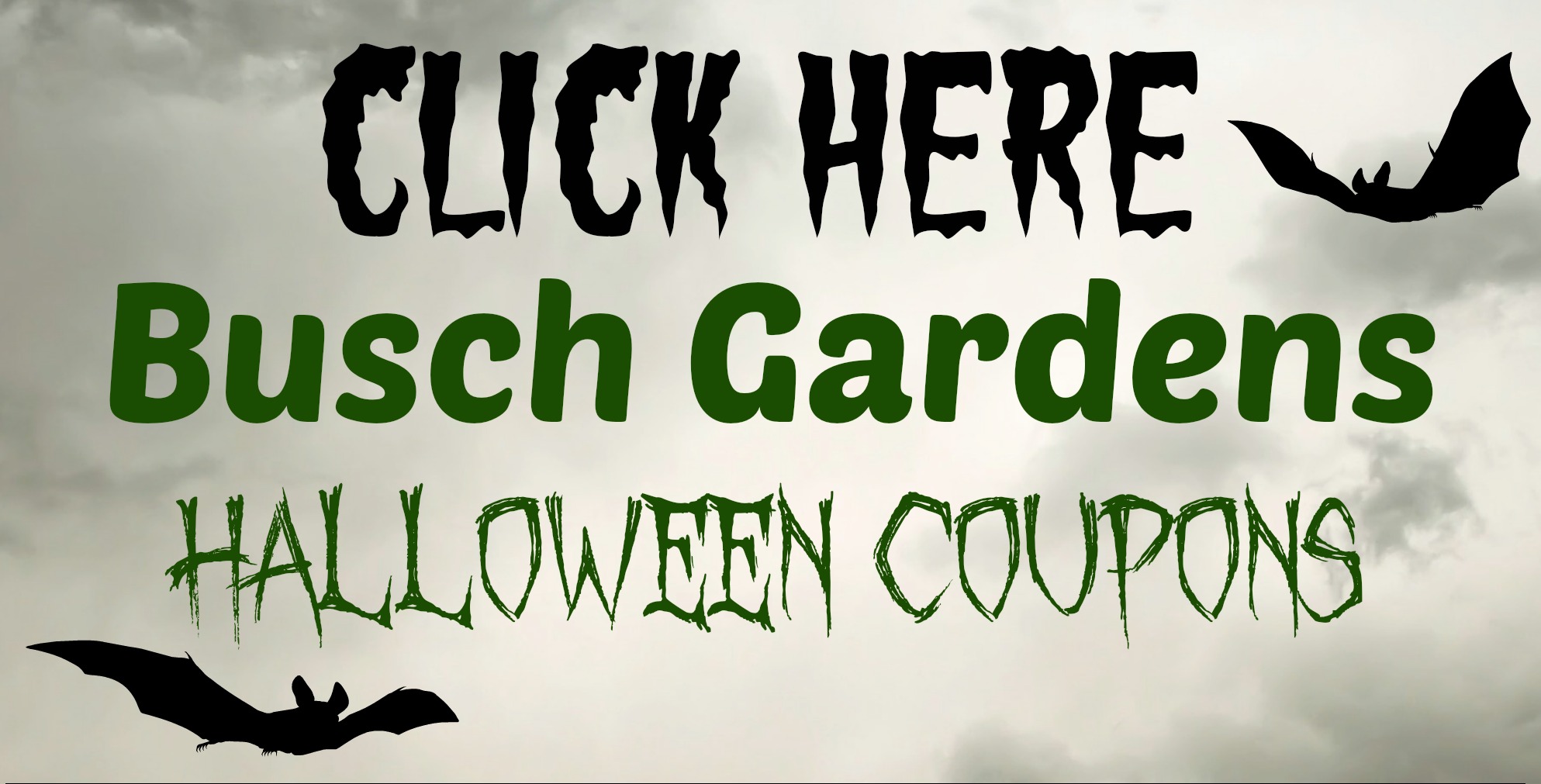 Make sure to bookmark my Busch Gardens Discount Coupons page for saving next year.  You can also get on my Busch Gardens Christmas Town email list for deals on Christmas park savings!