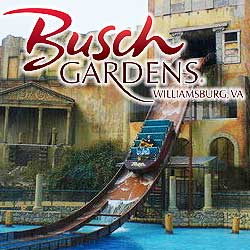 Busch Gardens Williamsburg is celebrating it's 40th birthday. If you were also born in 1975 – you can get in FREE too!  Offer is valid March 27 – 29 ONLY.
In honor of our 40th anniversary we're giving free single day admission to anyone born in 1975. That's right, if you're like us and were born in 1975 you can receive a free single-day ticket. All you have to do is come to the front gate on opening weekend, and show your identification card or driver's license displaying you were born in 1975. This offer is valid for opening weekend only.
Please note that this offer is nontransferrable. Here is a note from the Busch Gardens Facebook Page: "Many of you are wondering if this offer can be redeemed by someone born in 1975 and then given to someone else. The answer is "no," because this offer is valid only for guests born in 1975 and can't be transferred. However, we will have another special offer for pass members later this year. Stay tuned."
:: Don't forget about the great B1G1 Free deal – Pay just $75 (the cost of a single day admission) for the Busch Gardens + Water Country USA 2-Park Fun Card.  Offer valid through March 31, 2015!
:: FREE Preschool Pass for kids ages 3-5.  You must register online to get this freebie.