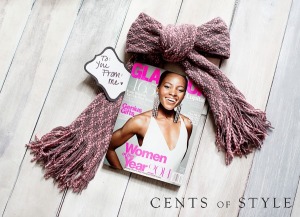 Today's Cents of Style Friday Fashion is for a Glamour Magazine Subscription and Knit Scarf combo for only $12.95 plus free shipping! You can grab this deal with free shipping when you use coupon code FASHIONFRIDAY at checkout.
This will make for the perfect gift! The scarf comes in 5 colors and can actually be worn two ways, either oblong or as an infinity. The subscription is for 12 issues, 1 year, of Glamour Magazine, a great resource for style tips and tricks. And just like Cents of Style, it strives to be accessible for the everyday woman.
If you have never shopped Cents of Style you are missing out on great deals, especially every Friday where they offer free shipping and a huge discount on one particular sale or item.