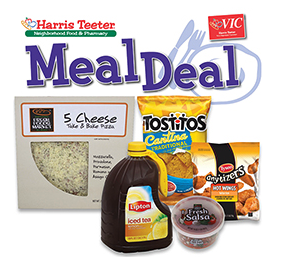 This meal deal is great – I think with a little effort, I can turn this deal into 3 meals!
Pick up the items below at Harris Teeter and enjoy a great meal and great savings!
This week's Meal Deal:
Buy All Five Items For $12.99 – Only $11.99 if you choose to get chicken nuggets and print the $1.00/1 coupon:
One (1) 26 – 31 oz. Fresh Foods Market Pizza
One (1) 25 – 28 oz. Tyson Appetizers ($1.00/1 Tyson Nugget Products)
One (1) 9 – 12 oz. Tostitos Cantina Tortilla Chips
One (1) 16 oz. Farmers Market Salsa
One (1) 128 oz. Lipton Tea
Enjoy a great meal on us and save at least $10.97!
*Must purchase all 5 items in a single transaction with your VIC card to receive this great deal. Limit one transaction per household. Offer good until November 3, 2015.