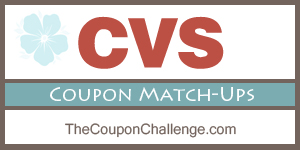 Below are your top weekly CVS deals! Please head over to the CVS coupon matchups page for the complete list of store deals.
**Print the official
CVS Coupon Policy
to keep in your coupon binder.
New to CVS? Read my Getting Started at CVS post to learn how to make the most of your shopping trip.
Multi-Item Deals
Get $10 CVS Cash Card wyb $30 in Participating Items; Limit 1
Excludes: Simply Clean & Fresh
$0.75/1 Tide Detergent (Zip Code 77477); Includes 40 oz or larger; Excludes: Tide Simply, Tide PODS, 10 oz or Trial and Travel Size
$1.00/1 Tide Detergent (Zip Code 77477); Includes 40 oz or Larger; Excludes Trial and Travel Size, Simply, Pods, and 10 oz; Limit of 4 Like Coupons Per Household Per Day
$1.00/1 Tide Detergent; Includes 40 oz or Larger; Excludes Tide Simply, Tide Pods 10 oz, Trial or Travel Size; Limit of 4 Like Coupons Per Household Per Day

$0.50/1 Bounce , Downy, Tide Detergent, Boost, To Go, or Washing Machine Cleaner – 5-3-15 PG; Excludes Trial and Travel Size and Bursts; Limit of 4 Like Coupons Per Household Per Day (exp. 05/30/15)

$1.00/1 Tide + Collection Detergents, Tide Boost, Tide To Go, Tide Washing Machine Cleaner, Downy or Bounce – 5-3-15 PG ; Excludes Trial and Travel Size; Limit of 4 Like Coupons Per Household Per Day (exp. 05/30/15)

$1.00/2 Bounce , Downy, Tide Detergent, Boost, To Go, or Washing Machine Cleaner – 5-3-15 PG; Excludes Trial and Travel Size and Bursts; Limit of 4 Like Coupons Per Household Per Day (exp. 05/30/15)

$2.00/1 Tide Liquid Laundry Detergent – 5-3-15 PG; Includes 40 oz or Larger; Excludes Simply Clean & Fresh, Tide Simply Clean & Sensitive, Tide Pods, Trial and Travel Size; Limit of 4 Like Coupons Per Household Per Day (exp. 05/30/15)

$2.00/3 Bounce , Downy, Tide Detergent, Boost, To Go, or Washing Machine Cleaner – 5-3-15 PG; Excludes Trial and Travel Size and Bursts; Limit of 4 Like Coupons Per Household Per Day (exp. 05/30/15)
Final Price: $3.94
Use $2/1 Coupon; Additional cash card savings wyb $30 in participating items
CVS ExtraBucks
Get $1 ECB wyb 1 Participating CVS brand Body Wash or Bath Pouf, Limit 2
Out-of-Pocket Price: $1.99
Final Price: $0.99
Buy 1; Includes $1 ECB Savings
Out-of-Pocket Price: $1.99
Final Price: $0.99
Buy 1; Includes $1 ECB Savings
Get $1 ECB wyb 2 Participating Suave Hair Care, Limit 1
Includes: Select varieties; Pictured: Gold Professionals and Kids
$0.50/2 Suave Naturals Shampoo or Conditioner – 5-17-15 RP; Includes 22.5 oz or Larger Only; Excludes Trial or Travel Size; Maximum 2 Identical Coupons Allowed In Same Shopping Trip (exp. 06/14/15)

$1.00/2 Suave Naturals Shampoo or Conditioner – 5-17-15 RP; Includes 22.5 oz or Larger; Excludes Trial or Travel Size; Maximum 2 Identical Coupons Allowed In Same Shopping Trip (exp. 06/14/15)

$1.50/2 Suave Kids Hair Product – 5-17-15 RP; Excludes Trial or Travel Size; Maximum 2 Identical Coupons Allowed In Same Shopping Trip (exp. 06/14/15)

$3.00/2 Suave Professionals Gold Hair Care – 5-17-15 RP; Excludes Trial or Travel Size; Maximum 2 Identical Coupons Allowed In Same Shopping Trip (exp. 06/14/15)
Out-of-Pocket Price: $1.50
Final Price: $1.00
Buy 2 Professionals Gold; Use $3/2 Coupon; Includes $1 ECB Savings
Get $1 ECB wyb 3 Participating Glade Spray, Limit 1
Out-of-Pocket Price: $1.00
Final Price: $0.67
Buy 3; Includes $1 ECB Savings
Get $4 ECB wyb 2 Participating L'Oreal Hair Care or Color, Limit 1
$4.99 – Prices may vary by store
$4.00/2 L'Oreal Advanced Shampoos or Conditioners – 5-17-15 RP; Excludes Trial Size, 1.7 oz; No More Than 4 Coupons For The Same Product Per Household Per Day (exp. 06/13/15)
Out-of-Pocket Price: $2.99
Final Price: $0.99
Buy 2; Use $4/2 Coupon; Includes $4 ECB Savings
Get $5 ECB wyb $15 in Participating Sally Hansen, Limit 3
$3.19 – Prices may vary by store
$1.50/1 Sally Hansen Nail Color – 5-3-15 RP; Priced $3.19 or More (exp. 06/03/15)

Stacks With

$5.00/1 Any Cosmetics Purchase of $15 or More (CVS Coupon) In Store Coupon; Excludes Clearance
Out-of-Pocket Price: $0.69
Final Price: Free
Buy 5; Use (5) $1.50/1 Coupons; Includes $5 ECB Savings
Personal Care
With Coupon from the CVS Coupon Center; Limit 1 Offer per Household
Excludes: Clearance