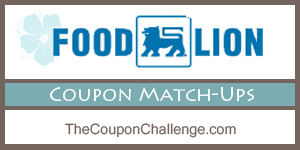 Food Lion Weekly Ad Matchups are done! Please visit the
Food Lion coupon matchups page
for a complete list of deals! Make sure you are viewing the tab for the correct date.
MVP Card required for sale prices
Make sure to scan your MVP card at the kiosk upon entering the store. You might get a coupon!
Limit ten (10) coupons for the same item per customer
Internet coupon for FREE products are not accepted
See the Food Lion Coupon Policy
New to shopping Food Lion?  Read How to Save Money at Food Lion
B1G1 Sale Prices Based on Purchasing a Single Item
B1G1
Sara Lee Honey Wheat Bread, 20 oz
$0.55/1 Sara Lee Breads – 3-1-15 SS; Includes 20 oz (exp. 06/01/15)
Baby Food & Care
Save $7 instantly wyb two big packs
Huggies Snug & Dry Big Pack, 24 – 104 ct – $18.79
Out-of-Pocket Price: $15.79
Final Price: $11.79
Buy (3); Use (3) $3/1; Includes Ibotta, Mobisave, and Instant Savings.
Beverages
Gevalia K-Cups Coffee, 6 – 12 ct – $6.99
Final Price: $5.99
Condiments, Spice & Baking
Hunt's Ketchup, 24 oz – $0.99
Out-of-Pocket Price: $0.99
Final Price: $0.79
Sweet Baby Ray's Barbecue Sauce, 18 oz – $1.50
$1.00/1 Sweet Baby Ray's Barbecue Sauce – 5-10-15 SS (exp. 06/30/15)

$1.00/2 Sweet Baby Ray's Barbecue Sauce – 5-10-15 SS (exp. 06/30/15)

$1.00/3 Sweet Baby Rays BBQ Sauce – 5-10-15 SS (exp. 06/30/15)

$1.00/4 Sweet Baby Rays BBQ Sauce – 5-10-15 SS (exp. 06/30/15)
Final Price: $0.50
Cookies, Snacks & Candy
Little Debbie Snack Cakes, 9.5 – 16.2 oz – $1.50
$0.95/1 Little Debbie Snacks – 3-29-15 SS; Excludes; DND (exp. 06/28/15)
Final Price: $0.55
Frozen Foods
Ore-Ida Frozen Potatoes, 19 – 32 oz – $2.50
Out-of-Pocket Price: $2.00
Final Price: $1.50
Buy 10 bags, Use 5 coupons, after SavingStar Rebate
Grains, Pasta & Sides
Bertolli Pasta Sauce, 15 – 24 oz – $2.00
$0.60/1 Bertolli Product – 4-26-15 RP (exp. 06/07/15)

$1.50/2 Bertolli Products – 4-26-15 RP (exp. 06/07/15)
Final Price: $1.25
Packaged Meats
Gwaltney Chicken Great Dogs, 16 oz – $1.00
$0.75/2 Gwaltney Hot Dogs – 5-10-15 SS (exp. 06/20/15)
Final Price: $0.63
Produce
Cherries, Red, per lb – $3.99