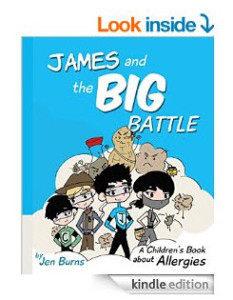 Today and tomorrow only (5/15 – 5/16) you can grab James and the Big Battle: A Children's Book about Allergies
free for your Kindle or Kindle App!
With his team by his side and the tools he's been given, James realizes he has everything he needs to live his life with confidence in spite of his allergies.
In the beginning, James feels a little scared. He discovered that he is highly allergic to several things. These allergies sometimes make it hard for James to breathe. He wonders if he will ever be able to live a normal life.
Join James on an exciting adventure as he battles allergy-minions and finds the courage he needs to face his fears.
The story in this book was inspired by the author's youngest son. His journey with allergies and asthma, combined with his imagination and his love of video games, produced the story of James and the Big Battle.
Don't have a Kindle?

This ebook is specifically for Kindles. However, you can download a free application which enables you to read Kindle ebooks on your computer, iphone, Android, Blackberry, iPad and more.
Need a Kindle?
Why pay for books when you can get them free? See more FREE ebook offers!
Product prices and availability are accurate as of the date/time indicated and are subject to change. Any price and availability information displayed on amazon.com at the time of purchase will apply to the purchase of this product.