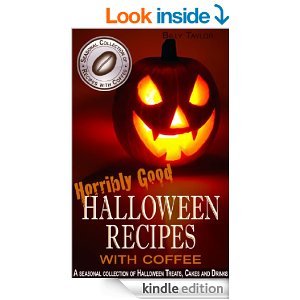 Looking for some fun and free Halloween recipes for the coffee lover?  This is it!
Right now you can get the book  Horribly Good Halloween Recipes with Coffee: Halloween Holiday Themed Snacks & Drinks for Kids and Adults.  for free!
Coming off the massive success of the 'Unforgettable Fall Recipes with Coffee' which had over 20,000 downloads in it's first week, 'Horribly Good Halloween Recipes with Coffee' is a really fun book that combines many of the traditional holiday recipes with the author's love of coffee, bringing an entirely unique twist to your Halloween Party.
Don't have a Kindle?

This ebook is specifically for Kindles. However, you can download a free application which enables you to read Kindle ebooks on your computer, iphone, Android, Blackberry, iPad and more.
Need a Kindle?
Why pay for books when you can get them free? See more FREE ebook offers!
Product prices and availability are accurate as of the date/time indicated and are subject to change. Any price and availability information displayed on amazon.com at the time of purchase will apply to the purchase of this product.