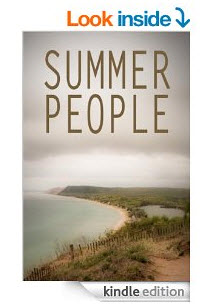 Head over and grab Summer People (A Ray Elkins Thriller Book 1)
for your Kindle or Kindle app for FREE!
It is late June in Michigan's gold coast resort area. The summer residents are settling in for the season and the tourists are beginning to flood the highways and beaches. But the idyllic vision of a summer at the shore is suddenly shattered by a gangland-style shooting. This murder is quickly followed by the deaths of three more summer residents, each taking place under suspicious circumstances. At times hindered by local politics and the proverbial tension between the summer people and the natives, Sheriff Ray Elkins searches for the possible links between the four victims. As he probes into their tangled lives and dark histories, he finds both the motive and the possible murderer.
Don't have a Kindle?

This ebook is specifically for Kindles. However, you can download a free application which enables you to read Kindle ebooks on your computer, iphone, Android, Blackberry, iPad and more.
Need a Kindle?
Why pay for books when you can get them free? See more FREE ebook offers!
Product prices and availability are accurate as of the date/time indicated and are subject to change. Any price and availability information displayed on amazon.com at the time of purchase will apply to the purchase of this product.