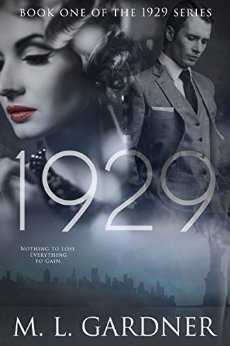 Amazon has 1929: Book One (The 1929 Series) for FREE download to your Kindle. If you don't own a Kindle you can install the Kindle version for your PC, Android, Tablet, etc. and still get all the free books! As always Amazon prices will and do change in an instant so you will want to hurry for this great price! Read more about this book from Amazon's description:
As Black Tuesday triggers financial despondency, three young couples in New York City must trade their lives of luxury for poverty, tragedy, and setbacks.

When Jonathan Garrett's brokerage firm collapses on the day of the Stock Market Crash, he unites with his closest friends (and former business partners), Aryl and Caleb, to relocate, track down a low-paying job, and cultivate a new life.

As the three men toil in their laborious jobs, their wives, Ava, Arianna, and Claire, slowly adapt to life in a shabby, rundown apartment, learning to sew, cook, and clean. With the help of their former, outspoken, Irish maid, Maura, and a new, equally Irish friend, Shannon, the wives become even closer than before.

The couples' rocky path leads to more turmoil, however, when a business rival, Victor Drayton, creates one disaster after another. From petty tricks to outright violence, Victor's nefarious mind will stop at nothing to beat down Jonathan's last glimmer of hope.
Don't have a Kindle?

This ebook is specifically for Kindles. However, you can download a free application which enables you to read Kindle ebooks on your computer, iphone, Android, Blackberry, iPad and more.
Need a Kindle?
Why pay for books when you can get them free? See more FREE ebook offers!
Product prices and availability are accurate as of the date/time indicated and are subject to change. Any price and availability information displayed on amazon.com at the time of purchase will apply to the purchase of this product.