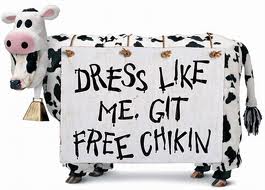 Tomorrow is Chick-fil-A Cow Appreciation Day!
Tuesday July 14, 2015 head to your local Chick-fil-A fully dressed as a cow to grab a FREE value meal!  If you decide to only partially dress as a cow (maybe wear a tail or ears) then you can still snag an entree!
The boys and I do this event every year and it's always yummy and fun…although be prepared for crowds!