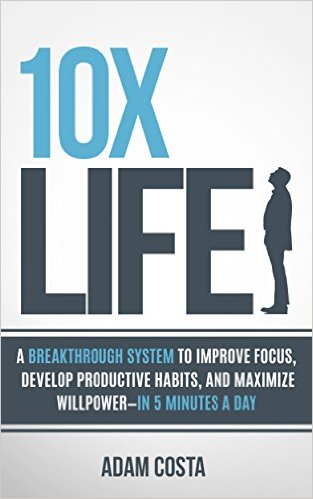 Amazon has 10x Life: A breakthrough system to improve focus, develop productive habits, and maximize willpower-in 5 minutes a day available as a FREE download through March 17th!
Ask yourself, what if you could:
Increase your income by 10x?
Be 10x more productive?
Spend 10x more time doing what makes you feel most alive?
Read 10x more books?
Travel to 10x more places?
Run 10x farther?
Do 10x more pushups?
Have 10x more friends?
Grow your business by 10x?
Learn 10x more things?
Feel 10x better about yourself?
If you'd like to learn how, keep reading. Because this book will help you get breakthrough results–in any part of your life–through scientifically proven techniques.
Don't have a Kindle?

This ebook is specifically for Kindles. However, you can download a free application which enables you to read Kindle ebooks on your computer, iphone, Android, Blackberry, iPad and more.
Need a Kindle?
Why pay for books when you can get them free? See more FREE ebook offers!
Product prices and availability are accurate as of the date/time indicated and are subject to change. Any price and availability information displayed on amazon.com at the time of purchase will apply to the purchase of this product.