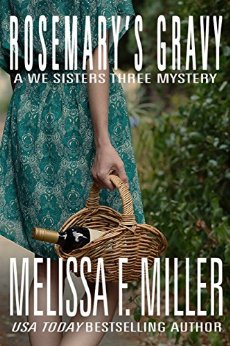 Amazon has Rosemary's Gravy (A We Sisters Three Mystery Book 1) for FREE download to your Kindle. If you don't own a Kindle you can install the Kindle version for your PC, Android, Tablet, etc. and still get all the free books! As always Amazon prices will and do change in an instant so you will want to hurry for this great price! Read more about this book from Amazon's description:
Rosemary Field never planned to work as a private, holistic chef for a demanding vegan actress. But then, plans have a way of going out the window when a girl's parents skip town, leaving behind a half-million-dollar debt.

She needs the job, so she puts up with her boss's diva antics and halfheartedly fends off the advances of the impossibly sexy stepson who comes with the high-paying gig. Then someone decides to kill the miserable movie star. It's bad news for any chef when a client dies from an allergic reaction after eating your cooking. It's even worse news for Rosemary because the police are determined to charge her with murder.

To restore her reputation (and stay out of prison), Rosemary has to find the real murderer–and fast. Her short list of suspects includes a womanizing race car driver, a powerful music producer, Hollywood's hottest leading man, and, oh yeah, Felix, the dead woman's stepson–which gets a little awkward when he and Rosemary start dating.
Don't have a Kindle?

This ebook is specifically for Kindles. However, you can download a free application which enables you to read Kindle ebooks on your computer, iphone, Android, Blackberry, iPad and more.
Need a Kindle?
Why pay for books when you can get them free? See more FREE ebook offers!
Product prices and availability are accurate as of the date/time indicated and are subject to change. Any price and availability information displayed on amazon.com at the time of purchase will apply to the purchase of this product.