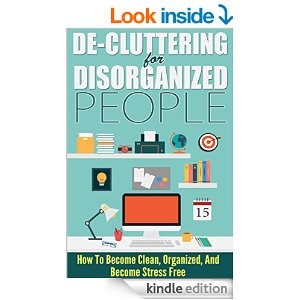 Are you looking around your home during the holidays and wondering if it will ever be clean again? This free book can help!
Right now you can get the book De-Cluttering For Disorganized People – How To Become Clean, Organized, And Stress FREE (Easy Steps To Clutter, Organized and Clean, Stress Free, Cluttering for People)
 for FREE!
Don't have a Kindle?

This ebook is specifically for Kindles. However, you can download a free application which enables you to read Kindle ebooks on your computer, iphone, Android, Blackberry, iPad and more.
Need a Kindle?
Why pay for books when you can get them free? See more FREE ebook offers!
Product prices and availability are accurate as of the date/time indicated and are subject to change. Any price and availability information displayed on amazon.com at the time of purchase will apply to the purchase of this product.