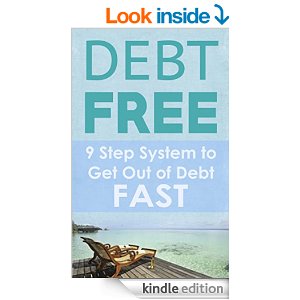 Download Debt-Free: 9 Step System to Get Out of Debt Fast and Have Financial Freedom: The Quickest Way to Get Out of Debt Forever
by Ashton Pereira for FREE – was $5.19!
Are you ready to get rid of your debt?

Are you tired of feeling frustrated and trapped?

Do you want to eliminate your debt FAST?

If you're ready to change your life, get rid of your debt, and achieve REAL financial freedom, then THIS WILL BE THE LAST BOOK YOU EVER BUY!

Don't have a Kindle?

This ebook is specifically for Kindles. However, you can download a free application which enables you to read Kindle ebooks on your computer, iphone, Android, Blackberry, iPad and more.
Need a Kindle?
Why pay for books when you can get them free? See more FREE ebook offers!
Product prices and availability are accurate as of the date/time indicated and are subject to change. Any price and availability information displayed on amazon.com at the time of purchase will apply to the purchase of this product.