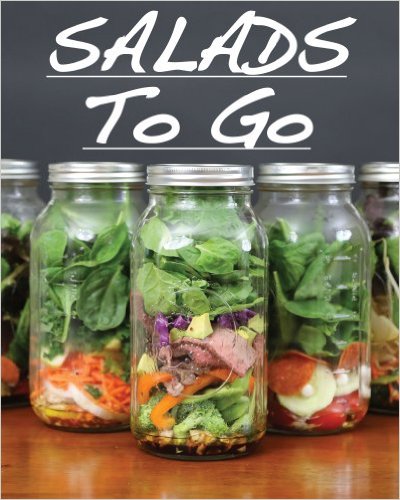 Amazon has Salads To Go
available as a FREE download right now. The regular price is $0.99.
If you are like me, you probably have a busy lifestyle to keep up with which makes eating healthy pretty difficult.   We all know that a good hearty salad is good for you.  However, due to everyones busy demanding schedules, finding the time to prepare a good salad isn't always possible.

Yes, you can get salad in many fast food restaurants; unfortunately, most fast food salads are either not fresh, contains processed fillers, or their dressing contains more calories than their burgers.

What most people don't know is that many fast food restaurants actually spray their salads with a substance made of propylene glycol to make their lettuce and other vegetables appear fresh, when they could actually be up to 3 days old!  So all these reasons really defeat the purpose of trying to eat healthy.

Lucky for you, I am about to reveal an ingenious way to prepare a tasty, mouth watering and healthy salad in a mason jar that can last for up to 7 days – without the unwanted chemical spray.
Don't have a Kindle?

This ebook is specifically for Kindles. However, you can download a free application which enables you to read Kindle ebooks on your computer, iphone, Android, Blackberry, iPad and more.
Need a Kindle?
Why pay for books when you can get them free? See more FREE ebook offers!
Product prices and availability are accurate as of the date/time indicated and are subject to change. Any price and availability information displayed on amazon.com at the time of purchase will apply to the purchase of this product.