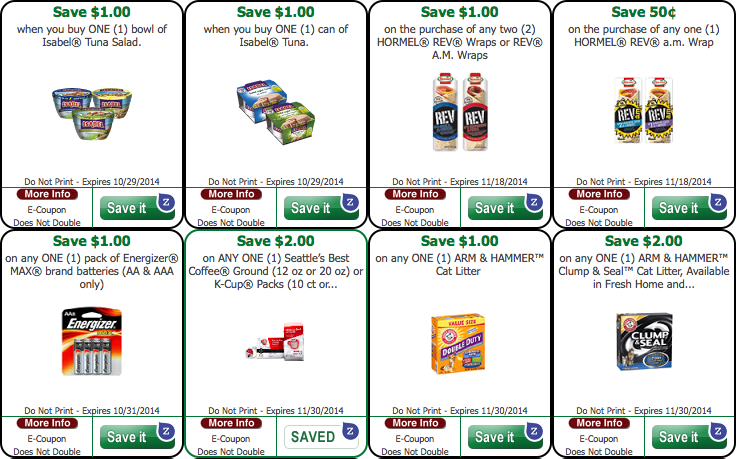 Here are the coupon matchups to go with today's e-VIC coupons.  I hope you can snag some great deals! Check out all of the Harris Teeter deals before you go!
What are e-VIC coupons?
e-VIC coupons are paperless coupons that can be redeemed for face value at Harris Teeter stores.  You must be an e-VIC member to access these special coupons.  You can load e-VIC coupons onto your VIC card and the saving will be deducted at the register.  e-VIC coupons and paper manufacture coupons can be "stacked".  Learn more about Harris Teeter e-VIC coupons HERE.
Arm & Hammer Clump and Seal Cat Litter, 14 lb., $9.48
$2.00/1 Arm & Hammer Clump & Seal Cat Litter – 10-5-14 SS (exp 12/31/14)
$3.00/1 Arm & Hammer Clump & Seal Litter
Stacks with $2.00/1 e-VIC coupon
Final Price: As low as $4.48 with you use $3.00/1 printable and stack with e-VIC
Arm & Hammer Cat Litter, 20 lb., $9.48
$1.50/1 Arm & Hammer Cat Litter
$1.00/1 Arm & Hammer Cat Litter – 10-5-14 SS (exp 12/31/14)
$2.00/1 Arm & Hammer Clump & Seal Cat Litter – 10-5-14 SS (exp 12/31/14)
Stacks with $1.00/1 e-VIC coupon
Final Price: As low as $6.48 with you use $2.00/1 and stack with e-VIC
Seattle's Best Ground Coffee, 12 0z., $5.99
$2.00/1 Seattle's Best Coffee Ground, 10 or 20 oz or K-Cups, 10 or 16 ct
$2.00/1 Seattle's Best Coffee, 12 oz – Facebook Coupon
$1.50/1 Seattle's Best Ground Coffee, 12 or 20 oz or K-Cup Packs, 10 or 16 ct – 8-10-14 SS (exp 11/10/14)
Stacks with $2.00/1 e-VIC coupon
Final Price: As low as $1.99 with you use $2.00/1 printable and stack with e-VIC
Seattle's Best K Cups, 10 cups, $8.49
$2.00/1 Seattle's Best Coffee Ground, 10 or 20 oz or K-Cups, 10 or 16 ct
$1.50/1 Seattle's Best Ground Coffee, 12 or 20 oz or K-Cup Packs, 10 or 16 ct – 8-10-14 SS (exp 11/10/14)
Stacks with $2.00/1 e-VIC coupon
Final Price: As low as $6.49 with you use $2.00/1 printable and stack with e-VIC
Energizer AA or AAA Batteries, 4 ct., $4.99
$1.00/1 Energizer Brand Batteries
$0.50/1 Energizer Brand Batteries or Flashlight – 10-5-14 SS (exp 11/01/14)
Stacks with $1.00/1 e-VIC coupon
Final Price: $2.99
Hormel REV a.m. Wrap, Price Not Found
$0.50/1 Hormel Rev a.m. Wrap
Stacks with $0.50/1 e-VIC coupon
Hormel REV Wraps, 3 oz., $2.00
$1.00/2 Hormel Rev Wraps or Rev a.m. Wraps
Stacks with $1.00/2 e-VIC coupon
Final Price: $1.00 each wyb 2
Isabel Tuna, 1 can, Price Not Found
Use $1.00/1 SavingStar Deposit
Stacks with $1.00 e-VIC coupon
Isabel Tuna Salad, 1 bowl, Price Not Found
Use $1.00/1 SavingStar Deposit
Stacks with $1.00 e-VIC coupon