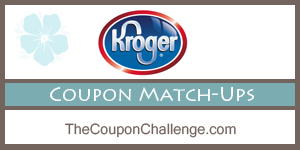 Kroger Mid-Atlantic Sale Ad Coupon Mathups have been updated! Please visit the Kroger sale ad coupon matchups page to view the entire list of deals that start today.
Local Kroger stores no longer double coupons!
Printable coupons over $1 value are not accepted
Limit of 3 like coupons per transaction
Bring your reusable shopping bag to save $0.05 off each bag
B1G1 Sale Prices Based on Purchasing a Single Item
Multi-Item Deals
Buy 6, Save $3. Mix & Match participating items in multiples of 6.
Betty Crocker Helper, 4.5 – 12.2 oz – $1.49
$1.00/2 Betty Crocker Helper Regular or Ultimate Skillet Dishes – 6-12-16 SS (exp. 08/06/16)
Final Price: $0.49
Country Time Drink MIx, 8 – 10 qts – $1.49
$1.00/2 Country Time or Tang Drink Mixes – 6-26-16 SS (exp. 08/06/16)
Final Price: $0.44
French's Yellow Mustard, 14 oz – $1.49
Final Price: $0.49
Hefty Foam Plates, 20 – 50 ct – $2.49
$1.00/2 Hefty Foam Plate Products – 6-9-16 RP; Limit 4 Like Coupons Per Day (exp. 08/31/16)

$1.00/2 Hefty Foam Products – 5-15-16 RP (exp. 07/31/16)
Final Price: $1.49
Hidden Valley Ranch Dressing, 12 – 16 oz – $2.99
$1.00/1 Hidden Valley Flavored Ranch Dressing – 5-22-16 SS (exp. 07/22/16)

$1.00/1 Hidden Valley Greek Yogurt Bottled Dressing – 5-22-16 SS (exp. 07/22/16)
Out-of-Pocket Price: $1.49
Final Price: $0.49
Ragu Pasta Sauce, 16 – 24 oz – $1.89
$1.00/1 Ragu Sauce – 5-15-16 SS; Pictured Homestyle Variety; Maximum of 2 Identical Coupons Allowed In Same Shopping Trip (exp. 07/12/16)

$1.00/1 Ragu Sauce – 6-12-16 SS; Maximum of 2 Identical Coupons Allowed In Same Shopping Trip (exp. 07/11/16)
Final Price: $0.39
Sweet Baby Ray's Barbecue Sauce, 14 oz – $1.49
$1.00/2 Sweet Baby Ray's Barbecue Sauce – 5-22-16 SS (exp. 06/30/16)

$1.00/3 Sweet Baby Ray's Barbecue Sauce – 5-22-16 SS (exp. 06/30/16)

$1.00/4 Sweet Baby Ray's Barbecue Sauce – 5-22-16 RP (exp. 06/30/16)
Final Price: $0.49
Beverages
Sparkling ICE, 17 oz – $0.88
$0.50/1 Sparkling Ice Waters or Lemonade – 5-15-16 SS; Includes 17 oz only, DND (exp. 07/15/16)

$0.50/2 Sparkling Ice Waters or Lemonade – 5-15-16 SS (exp. 07/15/16)
Final Price: $0.38
Grains, Pasta & Sides
Betty Crocker Suddenly Salad, 6.2 – 7.5 oz – $1.00
$0.50/2 Betty Crocker Suddenly Salad – 5-15-16 SS (exp. 07/09/16)

$1.00/2 Betty Crocker Suddenly Salad – 6-12-16 SS (exp. 08/06/16)

$1.00/4 Betty Crocker Suddenly Salad – 5-15-16 SS (exp. 07/09/16)
Final Price: $0.50
Produce
Out-of-Pocket Price: $0.33
Final Price: $0.08