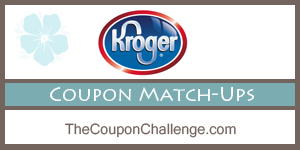 Kroger Mid-Atlantic Sale Ad Coupon Mathups have been updated! Please visit the
Kroger sale ad coupon matchup
s page to view the entire list of deals that start today.
Local Kroger stores no longer double coupons!
Printable coupons over $1 value are not accepted
Limit of 3 like coupons per transaction
Bring your reusable shopping bag to save $0.05 off each bag
B1G1 Sale Prices Based on Purchasing a Single item
Multi-Item Deals
Mix & Match. Buy 6 participating items and Save $3 instantly.
$1.00/2 Betty Crocker Helper Regular or Ultimate Skillet Dishes – 6-12-16 SS (exp. 08/06/16)
Final Price: $0.49
wyb 6 Mega Items
$1.00/2 Kool-Aid Liquid or Powder Drink Mixes – 6-26-16 SS; Excludes Envelopes (exp. 08/06/16)
Final Price: $0.44
wyb 6 Mega Items
$1.00/2 MiO Liquid Water Enhancers – 6-26-16 SS; Includes 1.62 oz Only (exp. 08/06/16)
Final Price: $1.99
wyb 6 Mega Items
Condiments, Spice & Baking
$0.75/1 A1 Sauce – 6-26-16 SS; Includes 10 oz or Larger Only, DND (exp. 08/07/16)
Final Price: $1.74
Cookies, Snacks & Candy
$1.00/1 Hostess Suzy Q's Lucky You – 6-12-16 SS; Limit 2 identical coupons in the same shopping trip (exp. 08/31/16)
Final Price: $1.50
Home Supplies
Heavy or Light Duty
$1.00/2 Ocelo Products – 6-12-16 SS (exp. 07/31/16)
Final Price: $1.50