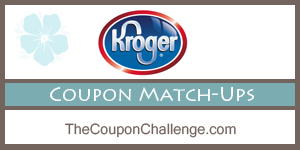 Kroger Mid-Atlantic Sale Ad Coupon Mathups have been updated! Please visit the Kroger sale ad coupon matchups page to view the entire list of deals that start today.
Local Kroger stores no longer double coupons!
Printable coupons over $1 value are not accepted
Limit of 3 like coupons per transaction
Bring your reusable shopping bag to save $0.05 off each bag
B1G1 Sale Prices Based on Purchasing a Single Item
Multi-Item Deals
Save $1 per package wyb 1 along with any 3 other Private Selection items. Mix & Match participating items in multiples of 4.
Private Selection Meats & Cheese
Minimum 1/2 pound purchase. Limit 16 itemsDeli Meat, Deli Cheese, Fresh Meat or Seafood
B1G1
Thomas' Bagels, 12 – 20 oz
Beverages
Get this price wyb 5. Quantities less than 5 will be priced at $1.67 each.
Kroger brand Milk, 1/2 gal – $1.00
Prices vary by region
Breakfast & Cereal
General Mills Cereal, 10.7 – 12.2 oz – $1.99
$1.00/2 General Mills Cheerios Cereal; Includes Original, Honey Nut, Multi Grain, Multi Grain Peanut Butter, Apple Cinnamon, Frosted Cheerios, Chocolate, Banana Nut, Fruity, Honey Nut Medley Crunch, Multi Grain Dark Chocolate Crunch, Protein, or Ancient Grains

$1.00/2 General Mills Cheerios Cereal – 9-13-15 SS (exp. 10/25/15)

$1.00/3 General Mills Cereals – 9-27-15 SS (exp. 11/07/15)
Final Price: $0.99
Canned Goods & Soups
Campbell's Soup, 10.5 – 11.5 oz – $1.00
Select
$0.40/2 Campbell's Condensed Soups – 9-13-15 SS; Excludes Chicken Noodle, Tomato and Cream of Mushroom (exp. 10/31/15)

$0.40/4 Campbell's Condensed Soups – 9-13-15 SS; Includes Chicken Noodle, Tomato or Cream of Mushroom (exp. 10/31/15)

$1.00/5 Campbell's Condensed Soups – 9-13-15 SS; Excludes Chicken Noodle, Tomato and Cream of Mushroom (exp. 10/31/15)

$1.00/6 Campbell's Condensed Chicken Noodle, Tomato or Cream of Mushroom Soups – 9-13-15 SS (exp. 10/31/15)
Out-of-Pocket Price: $0.80
Final Price: $0.55
Home Supplies
Get this price wyb 2. Quantities less than 2 will be priced at $5.99
Cottonelle Bathroom Tissue, 12 dbl rolls – $5.00
$0.50/2 Cottonelle Bathroom Tissue – 9-13-15 SS; Includes (2) 4 ct or (1) 9 pk or Larger (exp. 10/24/15)
Final Price: $4.50
Meat, Poultry & Fish
Tyson Split Chicken Breasts, per lb – $0.99
$1.00/1 Tyson Fresh Chicken – 6-14-15 SS (exp. 09/30/15)
Produce
Potatoes, Russet, 10 lb bag – $2.99