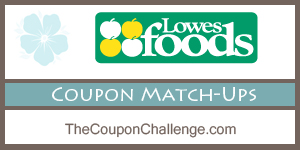 The Lowes Foods Coupon Matchups are done! Please visit the Lowes Foods Coupon Matchups Page for the complete list of deals.
Double up to 20 manufacturer coupons with a face value of $0.99 or less per day.
Any manufacturer coupon that states -Do not double- will not be doubled.
No cash back will be awarded.
Limit redemption to 4 like coupons.
Digital coupons and paper coupons for the same item may not be combined in the same transaction.
FREE Product printable coupons are not accepted. B1G1 Free printable coupons are accepted.
Accept competitors coupons for dollars off the entire order. Does not accept competitors coupons for savings off specific items.
See the Lowes Foods Coupon Policy.
B1G1 Sale Prices Based on Purchasing a Single Item
B1G1
Lance Sandwich Crackers, 6 – 8 ct – $1.24
Limit 4 Free
$1.00/2 Lance Sandwich Cracker Variety Pack – 4-3-16 SS; Includes 8.4 – 30.3 oz Only; DND (exp. 05/31/16)
Final Price: $0.74
B1G1 pricing for a single item. Regularly priced $2.49.
Baby Food & Care
Gerber Graduates Puffs, 1.48 oz – $2.00
$1.00/2 Gerber Regular or Graduates Food Products – 5-8-16 RP; Excludes Formula (exp. 06/30/16)
Final Price: $1.50
Beverages
Campbell's V8 Vegetable Juice, 46 oz – $2.50
Final Price: $1.00
Capri Sun Juice Drinks, 10 ct – $2.50
Final Price: $1.75
Maxwell House Coffee, 28 – 30.6 oz – $5.99
Final Price: $4.99
Canned Goods & Soups
Bush's Best Boston Recipe Baked Beans, 22 – 28 oz – $1.50
$1.00/2 Bush's Baked Beans, Grillin' Beans, or Asian BBQ Beans – 4-10-16 SS; Includes Baked Beans, 28 oz; Grillin' Beans, 22 oz; or Asian BBQ, 22 oz Only (exp. 05/13/16)

$1.00/2 Bush's Beans – 4-10-16 SS; Includes Baked, 28 oz Only; Grillin, 21 – 22 oz Only; or Asian BBQ, 22 oz Only (exp. 05/13/16)
Final Price: $1.00
Condiments, Spice & Baking
Kraft Barbecue Sauce, 18 oz – $1.25
$1.00/2 Kraft BBQ Sauce – 5-1-16 SS; Includes 18 oz Only
Final Price: $0.75
Dairy
Land O'Lakes All Natural Large Brown Eggs, 12 ct – $2.79
$0.50/1 Land O Lakes Eggs – 2-14-16 RP (exp. 05/14/16)
Final Price: $1.79
Home Supplies
Chinet Dinner Plates, 2 – 15 ct – $2.00
Final Price: $1.00
Reynolds Wrap Aluminum Foil, 35 – 75 sq ft – $3.50
Final Price: $2.00