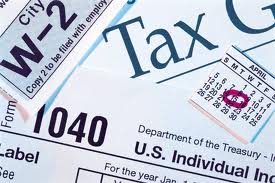 Get your list of Tax Day 2015 freebies & savings to help make April 15th a bit more bearable
Boston Market: buy one individual-sized meal, get one free deal on April 15. The deal includes the new slow-braised pulled pork menu item, but you can also stick with the classic rotisserie chicken.
Bruegger's Bagels: Big Bagel Bundle (baker's dozen of bagels and two tubs of cream cheese) for only $10.40 with coupon.
Cinnabon: Two FREE bites From 6 pm to 8 pm EST
Great American Cookies: free sugar cookies to each customer.
Hard Rock Cafe:  serenade your server with an entire rock song (lyrics will be provided), you'll get a free burger!  Between 5 p.m. to 7 p.m.
HydroMassage: FREE HydroMassage Experience between April 13th and 17th At participating locations. Find your closest location here
IHOP: Get a short stack of pancakes on April 15th at participating IHOP locations for just $1.
Kona Ice: Kona Ice will have their trucks parked outside post offices, tax preparation centers, and businesses all over the country on April 15 to give you some sweet relief to your Tax Day woes.  Stop by the truck and you'll get a free cup of shaved ice and a free Hawaiian lei. Search to see where a Kona Ice truck is near you.
McDonald's: Big Macs and Quarter Pounders are buy one, get one for just $0.01 on April 15 at select McDonald's locations.
P.F. Chang's: This chain is offering 15% off food, dine-in or take out, on April 15. The 15% discount is not available on Happy Hour specials or alcoholic beverages.
Schlotzsky's: one free small original sandwich per customer with the purchase of a 32-ounce drink and a bag of chips.
Sonic Drive-Thru: Half Price Cheeseburgers
Sonny's BBQ:$6.25 ribs (normally $12.50) for their IRS Special.
Staples: Stop into a Staples with this coupon to shred up to 5 pounds of paper absolutely free.  This offer is valid through May 2, 2015, at your local Staples store.
Subway: customers in select markets in North Carolina and Virginia (Greenville, Greensboro, Wilmington, Raleigh, Richmond, and Norfolk) can save some bucks on subs at Subway during their Tax Day customer appreciation day. On Thursday, April 15 only, sub lovers in those markets can avail themselves of a buy one foot long, get one free deal.
Thanks, A Frugal Chick!