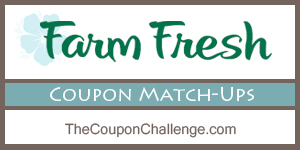 Farm Fresh Coupon Matchups are done! Please visit the Farm Fresh coupon matchups page for a complete list of deals! Make sure you are viewing the tab for the correct date. Let me know what else you find or if you have corrections!
MEGA DOUBLES $2 and Under
Multi-Item Deals
FREE Huggies Dory Wipes When You Purchase $20 of Huggies Products.
Huggies Little Swimmers, 10 – 12 pk – $6.99
$1.50/1 Huggies Little Swimmers Disposable Swimpants – 5-15-16 SS; Includes 10 ct or Larger Only (exp. 06/11/16)
Final Price: $2.99
Save $3 Instantly wyb 3; Mix & Match.
Bounty Paper Towels, 6 Big Rolls – $5.99
$0.25/1 Bounty Product – 5-29-16 PG; Excludes Single Rolls; Excludes Trial and Travel Size; Limit of 4 Identical Coupons Per Household Per Day (exp. 06/25/16)
Out-of-Pocket Price: $2.99
Final Price: $1.99
Charmin Ultra Bath Tissue, 6 Mega Rolls – $5.99
Out-of-Pocket Price: $2.99
Final Price: Free
Gain Flings, 15 – 20 ct – $5.99
$2.00/1 Tide PODS, Gain Laundry Detergent, or Gain Flings; Excludes PODS, 5 ct or Flings, 5 ct; Excludes Trial and Travel Size; Limit of 4 Identical Coupons Per Household Per Day

$2.00/1 Tide PODS or Gain Laundry Detergent or Flings – 5-29-16 PG; Excludes PODS and Flings, 5 ct; Excludes Trial and Travel Size; Limit of 4 Identical Coupons Per Household Per Day (exp. 06/25/16)

$5.00/3 Gain Laundry Detergents, Flings, Liquid Fabric Enhancer, Dryer Sheets, or Fireworks – 5-29-16 PG; Excludes Sheets, 20 ct or Smaller or Flings, 5 ct; Excludes Trial and Travel Size; Limit of 4 Identical Coupons Per Household Per Day (exp. 06/25/16)
Out-of-Pocket Price: $0.99
Final Price: Free
Gain Laundry Detergent, 46 – 50 oz – $5.99
$2.00/1 Gain Laundry Detergent; Includes 100 oz or Larger Only; Excludes Fireworkds; Excludes Trial and Travel Size; Limit of 4 Identical Coupons Per Household Per Day
$2.00/1 Tide PODS, Gain Laundry Detergent, or Gain Flings; Excludes PODS, 5 ct or Flings, 5 ct; Excludes Trial and Travel Size; Limit of 4 Identical Coupons Per Household Per Day

$2.00/1 Tide PODS or Gain Laundry Detergent or Flings – 5-29-16 PG; Excludes PODS and Flings, 5 ct; Excludes Trial and Travel Size; Limit of 4 Identical Coupons Per Household Per Day (exp. 06/25/16)

$5.00/3 Gain Laundry Detergents, Flings, Liquid Fabric Enhancer, Dryer Sheets, or Fireworks – 5-29-16 PG; Excludes Sheets, 20 ct or Smaller or Flings, 5 ct; Excludes Trial and Travel Size; Limit of 4 Identical Coupons Per Household Per Day (exp. 06/25/16)
Out-of-Pocket Price: $0.99
Final Price: Free
Tide PODS, 15 – 20 ct – $5.99
Final Price: $0.99
Baby Food & Care
Gerber 2nd Foods, 2 pk – $1.11
$1.00/2 Gerber Regular or Graduates Food Products – 5-8-16 RP; Excludes Formula (exp. 06/30/16)
Out-of-Pocket Price: $0.11
Final Price: Free
Gerber Organic 1st Food Pouches, 3.17 – 4.23 oz – $1.25
$1.00/2 Gerber Regular or Graduates Food Products – 5-8-16 RP; Excludes Formula (exp. 06/30/16)
Final Price: $0.25
Condiments, Spice & Baking
Hidden Valley Dressing, 16 oz – $2.99
$1.00/1 Hidden Valley Flavored Ranch Dressing – 5-22-16 SS (exp. 07/22/16)
Out-of-Pocket Price: $0.99
Final Price: Free
Dairy
Pillsbury Crescent Rolls, 4 – 12 oz – $1.00
$1.00/3 Pillsbury Refrigerated Baked Goods Products – 3-20-16 SS (exp. 06/11/16)
Final Price: $0.33
Personal Care
Tampax Tampons, 12 – 16 ct – $2.99
Final Price: $0.99