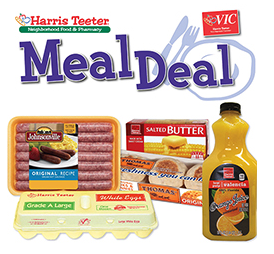 I love breakfast for dinner and if you do too, then you might want to take advantage of this week's meal deal from Harris Teeter:
Buy All Five Items For $8.99:
One (1) 9.6 – 12 oz. Johnsonville Sausage
One (1) 12 – 13 oz. Thomas' English Muffins
One (1) 16 oz. Harris Teeter Butter Quarters
One (1) 1 Dozen Harris Teeter Grade A Large Eggs
One (1) 59 oz. Harris Teeter Orange Juice
Enjoy a great meal on us and save at least $6.54!
Use these coupons for an even better deal:
$0.75/1 Johnsonville Breakfast Sausage – 3-29-15 SS; Excludes; DND (exp 05/31/15)
$1.00/2 Johnsonville Sausage – 4-26-15 SS; DND (exp 06/22/15)
$1.00/2 Thomas' English Muffins or Bagels
*Must purchase all 5 items in a single transaction with your VIC card to receive this great deal. Limit one transaction per household. Offer good until May 19, 2015.