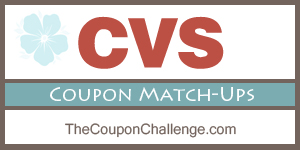 Below are your top weekly CVS deals! Please head over to the CVS coupon matchups page for the complete list of store deals. **Print the official CVS Coupon Policy to keep in your coupon binder.
New to CVS? Read my post on how to save money at CVS to learn how to make the most of your shopping trip.
Get a coupon for $10.00/1 $40.00 Facial Skin Care Purchase at the CVS Coupon Center (Red Kiosk) this week!
CVS ExtraBucks
Get $1 ECB wyb Tropicana, 59 oz; Limit 1
Out-of-Pocket Price: $2.50
Final Price: $1.50
Buy 1; Use $1.00/1 coupon; Includes ExtraCare savings
Get $2 ECB wyb 1 Colgate Total Toothpaste, 4 – 4.2 oz; Limit 2
Colgate Total Toothpaste, 4 – 4.2 oz – $2.99
$0.50/1 Colgate Toothpaste – 1-31-16 SS; Includes 3 oz or Larger Only; No More Than 4 Identical Coupons For The Same Product In The Same Day (exp. 02/14/16)

$1.00/2 Colgate Toothpaste – 1-31-16 SS; Includes 3 oz or Larger Only; No More Than 4 Identical Coupons For The Same Product In The Same Day (exp. 02/14/16)
Out-of-Pocket Price: $2.49
Final Price: $0.49
Buy 1; Use $0.50/1 coupon; Includes ExtraCare savings
Get $2 ECB wyb 1 Select Colgate 360 Toothbrush; Limit 4
Colgate 360 Toothbrush, 1 ct – $3.99
Includes: Select varieties
$0.50/1 Colgate Adult or Kids Manual Toothbrush – 1-31-16 SS; Excludes Plus, Clean and Classic Clean; No More Than 4 Identical Coupons For The Same Product In The Same Day (exp. 02/21/16)

$1.00/2 Colgate Adult or Kids Manual Toothbrush – 1-31-16 SS; Excludes Plus, Clean and Classic Clean; No More Than 4 Identical Coupons For The Same Product In The Same Day (exp. 02/21/16)
Out-of-Pocket Price: $3.49
Final Price: $1.49
Buy 1; Use $0.50/1 coupon; includes ExtraCare savings
Get $2 ECB wyb 2 Select Pantene Products; Limit 1
Pantene Shampoo or Conditioner, 12 – 16.9 oz – $4.00
$3.00/2 Pantene Products – 2-14-16 RP; Must Include Shampoo AND Conditioner OR Styler; Excludes Trial and Travel Size and 6.7 oz; Limit of 4 Identical Coupons Per Household Per Day (exp. 02/27/16)
Out-of-Pocket Price: $2.50
Final Price: $1.50
Buy 2; Use $3.00/2 coupon; Includes ExtraCare savings
Pantene Stylers, 6 – 11.5 oz – $4.00
$1.00/1 Pantene Hairspray – 2-14-16 RP; Excludes Trial and Travel Size; Limit of 4 Identical Coupons Per Household Per Day (exp. 02/27/16)
Out-of-Pocket Price: $3.00
Final Price: $2.00
Buy 2; Use (2) $1.00/1 coupons; Includes ExtraCare savings
Get $2 ECB wyb Select Duracell Batteries; Limit 1
Duracell Coppertop Batteries, 16 ct AA or AAA, 8 ct C or D or 4 ct 9V – $11.99
Out-of-Pocket Price: $11.99
Final Price: $9.99
Buy 1; Includes ExtraCare savings
Duracell Quantum Batteries, 12 pk AA or AAA, 5 pk C or D or 3 pk 9V – $11.99
Out-of-Pocket Price: $11.99
Final Price: $9.99
Buy 1; Includes ExtraCare savings
Get $5 ECB wyb 1 Brita Classic Pitcher or Filter Replacement, 3 pk; Limit 1
Brita Classic Pitcher – $17.99
$4.00/1 Brita Pitcher, Filter, Faucet Mount, or Faucet Mount Filter – 1-10-16 SS; Includes Filter, 3 ct or Larger; Excludes 1 ct Faucet Mount Filter; Limit of 4 Like Coupons In Same Shopping Trip (exp. 03/06/16)
Out-of-Pocket Price: $13.99
Final Price: $8.99
Buy 1; Use $4.00/1 coupon; Includes ExtraCare savings
Brita Pitcher Replacement Filters, 3 ct – $17.99
$4.00/1 Brita Pitcher, Filter, Faucet Mount, or Faucet Mount Filter – 1-10-16 SS; Includes Filter, 3 ct or Larger; Excludes 1 ct Faucet Mount Filter; Limit of 4 Like Coupons In Same Shopping Trip (exp. 03/06/16)
Out-of-Pocket Price: $13.99
Final Price: $8.99
Buy 1; Use $4.00/1 coupon; Includes ExtraCare savings
Get $5 ECB wyb 3 Select Paper Products; Limit 1
Brawny Paper Towels, 6 pk – $5.00
Out-of-Pocket Price: $4.00
Final Price: $2.34
Buy 3; Use (3) $1.00/1 coupons; Includes ExtraCare savings
Quilted Northern Ultra Plush Bath Tissue, 9 pk – $5.00
$0.25/1 Quilted Northern Ultra Plush Bath Tissue – 2-7-16 RP; Includes Double Roll, 4 ct or Larger Only (exp. 03/07/16)

$1.00/2 Quilted Northern Ultra Plush Bath Tissue – 2-7-16 RP; Includes Double Roll, 4 ct or Larger Only (exp. 03/07/16)
Out-of-Pocket Price: $4.59
Final Price: $2.92
Buy 3; Use (1) $1.00/2 coupon and (1) $0.25/1 coupon; Includes ExtraCare savings
Beverages
Gold Emblem Abound Organic Juice, 33.8 oz – $2.77
Final Price: $1.77
Buy 1; Use $1.00/1 coupon
Breakfast & Cereal
General Mills Cereal – $2.50
Includes: Select varieties
$1.00/2 General Mills Big G Cereals; Includes Cheerios, Cinnamon Toast Crunch, Chex, Lucky Charms, Cocoa Puffs, Trix, Reese's Puffs, Fiber One, Cookie Crisp, Golden Grahams, Kix, Total, Wheaties, Dora the Explorer, Hershey's Cookies 'n Creme, SpongeBob SquarePants, Oatmeal Crisp, Raisin Nut Bran, Basic 4, or Star Wars
$1.00/2 General Mills Big G Cereal; Includes Cheerios, Cinnamon Toast Crunch, Chex, Lucky Charms, Cocoa Puffs, Trix, Reese's Puffs, Fiber One, Cookie Crisp, Golden Grahams, Kix, Total, Wheaties, Dora the Explorer, Hershey's Cookies 'n Creme, SpongeBob Squarepants, Oatmeal Crisp, Raisin Nut Bran, Basic 4, or Star Wars
$1.00/2 General Mills Big G Cereals – SavingStar eCoupon; Includes Cheerios, Cinnamon Toast Crunch, Chex, Lucky Charms, Cocoa Puffs, Trix, Reese's Puffs, Fiber One, Cookie Crisp, Golden Grahams, Kix, Total, Wheaties, Dora the Explorer, Hershey's Cookies 'n' Creme, SpongeBob SquarePants, Oatmeal Crisp, Raisin Nut Bran, Basic 4, or Star Wars

$0.50/1 General Mills Fiber One Cereal – 1-31-16 SS (exp. 03/12/16)

$1.00/2 General Mills Basic 4, Raisin Nut Bran, or Oatmeal Crisp Cereal – 11-15-15 SS (exp. 12/26/16)

$1.00/2 General Mills Fiber One Cereal – 1-31-16 SS (exp. 03/12/16)
Final Price: $1.50
Buy 1; Use $1.00/1 coupon (if variety is included)
Canned Goods & Soups
Bumble Bee Solid White Tuna in Water, 5 oz – $0.88
Campbell's Chicken Noodle Soup, 10.75 oz – $0.79
$0.50/5 Campbell's Condensed or Healthy Request Soups – 1-3-16 SS (exp. 02/28/16)
Final Price: $0.69
Buy 4; Use $0.40/4 coupon
Campbell's Tomato Soup, 10.75 oz – $0.79
$0.50/5 Campbell's Condensed or Healthy Request Soups – 1-3-16 SS (exp. 02/28/16)
Final Price: $0.69
Buy 4; Use $0.40/4 coupon
Snow's Clams, 6.5 oz – $0.88
Home Supplies
Scott Bath Tissue, 1 roll – $1.00
Stacks With 

$1.00/3 Scott Bath Tissue (CVS Printable Kiosk Coupon); Includes 1 Roll Only; Limit 1 Coupon Per Household Card (exp. 02/20/16)
Final Price: $0.67
Buy 3; Use $1.00/3 CVS coupon
Personal Care
Colgate 2 in 1 Toothpaste, 4.6 – 6 oz – $3.50
$0.50/1 Colgate Toothpaste – 1-31-16 SS; Includes 3 oz or Larger Only; No More Than 4 Identical Coupons For The Same Product In The Same Day (exp. 02/14/16)

$1.00/2 Colgate Toothpaste – 1-31-16 SS; Includes 3 oz or Larger Only; No More Than 4 Identical Coupons For The Same Product In The Same Day (exp. 02/14/16)

Stacks With 

$1.50/1 Colgate Total, Max, or 2in1 Toothpaste (CVS Mobile App Coupon); Includes 4.6 – 6 oz Only; Limit 1 Coupon Per Household Card (exp. 02/20/16)
Final Price: $1.50
Buy 1; Use $0.50/1 coupon and $1.50/1 CVS coupon
Colgate Max Toothpaste, 4.6 – 6 oz – $3.50
$0.50/1 Colgate Toothpaste – 1-31-16 SS; Includes 3 oz or Larger Only; No More Than 4 Identical Coupons For The Same Product In The Same Day (exp. 02/14/16)

$1.00/2 Colgate Toothpaste – 1-31-16 SS; Includes 3 oz or Larger Only; No More Than 4 Identical Coupons For The Same Product In The Same Day (exp. 02/14/16)

Stacks With 

$1.50/1 Colgate Total, Max, or 2in1 Toothpaste (CVS Mobile App Coupon); Includes 4.6 – 6 oz Only; Limit 1 Coupon Per Household Card (exp. 02/20/16)
Final Price: $1.50
Buy 1; Use $0.50/1 coupon and $1.50/1 CVS coupon
Colgate Total Toothpaste, 4.6 – 6 oz – $3.50
$0.50/1 Colgate Toothpaste – 1-31-16 SS; Includes 3 oz or Larger Only; No More Than 4 Identical Coupons For The Same Product In The Same Day (exp. 02/14/16)

$1.00/2 Colgate Toothpaste – 1-31-16 SS; Includes 3 oz or Larger Only; No More Than 4 Identical Coupons For The Same Product In The Same Day (exp. 02/14/16)

Stacks With 

$1.50/1 Colgate Total, Max, or 2in1 Toothpaste (CVS Mobile App Coupon); Includes 4.6 – 6 oz Only; Limit 1 Coupon Per Household Card (exp. 02/20/16)
Final Price: $1.50
Buy 1; Use $0.50/1 coupon and $1.50/1 CVS coupon
Degree Dry Spray Anti-Perspirant, 3.8 oz – $5.50
Excludes: Clearance
Out-of-Pocket Price: $4.00
Final Price: $2.50
Buy 1; Use $1.50/1 coupon; Includes Ibotta savings
Dial Bar Soap, 3 ct – $2.00
$1.00/1 Dial, Dial For Kids, Dial Baby, Dial Acne, Dial For Men, or Tone Body Wash; Dial, Dial For Men, or Dial Advanced Bar Soap, Dial or Dial For Men Lotion – 2-14-16 RP; Includes Body Wash, 12 oz or Larger Only; Bar Soap, 6 pk or Larger Only; or Lotion, 12 oz or Larger Only (exp. 03/05/16)

$1.00/2 Dial Complete, Dial Kids, or Tone Foaming Hand Wash, Dial Complete or Dial Refills, Dial, Dial For Men , or Tone Bar Soap, Dial Advanced, or Dial Acne Products – 2-14-16 RP; Includes Foaming Hand Wash, 7.5 oz or Larger Only; Bar Soap, 3 pk or Larger; or Advanced Bar Soap, 2 pk or Larger Only (exp. 03/05/16)
Buy 1; Use $1.00/1 coupon
VO5 Shampoo or Conditioner, 12.5 oz – $0.77
Final Price: $0.52
Buy 2; Use $0.50/2 coupon
Pharmacy
Advil Cold & Sinus, 20 ct – $4.99
$1.00/1 Advil Sinus Congestion & Pain, Advil Allergy & Congestion Relief, Advil Cold & Sinus or Advil Allergy Sinus Product – 1-3-16 RP; Includes 10 ct or Larger Only; Limit of 4 Like Coupons In Same Shopping Trip (exp. 04/03/16)

$3.00/1 Advil Sinus Congestion & Pain, Allergy & Congestion Relief, Cold & Sinus, or Allergy Sinus Product – 2-14-16 RP (exp. 02/22/16)
Final Price: $1.99
Buy 1; Use $3.00/1 coupon
Advil Congestion & Pain, 10 ct – $4.99
$1.00/1 Advil Sinus Congestion & Pain, Advil Allergy & Congestion Relief, Advil Cold & Sinus or Advil Allergy Sinus Product – 1-3-16 RP; Includes 10 ct or Larger Only; Limit of 4 Like Coupons In Same Shopping Trip (exp. 04/03/16)

$1.00/1 Robitussin or Advil Sinus Congestion & Pain or Allergy Relief Product – 1-31-16 RP; Limit of 4 Like Coupons In Same Shopping Trip (exp. 03/27/16)

$3.00/1 Advil Sinus Congestion & Pain, Allergy & Congestion Relief, Cold & Sinus, or Allergy Sinus Product – 2-14-16 RP (exp. 02/22/16)
Final Price: $1.99
Buy 1; Use $3.00/1 coupon
Allegra 24-Hour, 24 – 30 ct – $17.99
$5.00/1 Allegra Allegra 24 Hr Product – 2-14-16 RP; Includes 24 ct or Larger Only; Excludes D and Children's (exp. 02/27/16)
Out-of-Pocket Price: $12.99
Final Price: $7.99
Buy 1; Use $5.00/1 coupon; Includes MobiSave savings
Children's Advil Liquid, 4 oz – $4.99
$1.00/1 Advil Children's or Infants', Dimetapp Children's, or Robitussin Children's Products – 1-31-16 RP; Limit of 4 Like Coupons In Same Shopping Trip (exp. 03/27/16)

$1.00/1 Children's Advil, Dimetapp, or Robitussin – 1-3-16 RP; Limit 4 Like Coupons In Same Shopping Trip (exp. 04/03/16)

$3.00/1 Children's Advil, Infants Advil, Children's Robitussin, or Children's Dimetapp Product – 2-14-16 RP (exp. 02/22/16)
Final Price: $1.99
Buy 1; Use $3.00/1 coupon
Children's Advil, 24 ct – $4.99
$1.00/1 Advil Children's or Infants', Dimetapp Children's, or Robitussin Children's Products – 1-31-16 RP; Limit of 4 Like Coupons In Same Shopping Trip (exp. 03/27/16)

$1.00/1 Children's Advil, Dimetapp, or Robitussin – 1-3-16 RP; Limit 4 Like Coupons In Same Shopping Trip (exp. 04/03/16)

$3.00/1 Children's Advil, Infants Advil, Children's Robitussin, or Children's Dimetapp Product – 2-14-16 RP (exp. 02/22/16)
Final Price: $1.99
Buy 1; Use $3.00/1 coupon
$1.00/1 Advil Children's or Infants', Dimetapp Children's, or Robitussin Children's Products – 1-31-16 RP; Limit of 4 Like Coupons In Same Shopping Trip (exp. 03/27/16)

$1.00/1 Children's Advil, Dimetapp, or Robitussin – 1-3-16 RP; Limit 4 Like Coupons In Same Shopping Trip (exp. 04/03/16)

$3.00/1 Children's Advil, Infants Advil, Children's Robitussin, or Children's Dimetapp Product – 2-14-16 RP (exp. 02/22/16)
Final Price: $1.99
Buy 1; Use $3.00/1 coupon
Nasacort Allergy Nasal Spray, 120 Sprays – $17.99
$2.00/1 Nasacort Product – 1-31-16 RP (exp. 03/19/16)

$5.00/1 Nasacort Allergy 24 Hr – 2-14-16 RP; Includes 120 Spray or Larger Only (exp. 04/09/16)
Out-of-Pocket Price: $12.99
Final Price: $7.99
Buy 1; Use $5.00/1 coupon; Includes MobiSave savings
Robitussin, 20 ct – $4.99
$3.00/1 Robitussin Product – 2-14-16 RP (exp. 02/22/16)
Final Price: $1.99
Buy 1; Use $3.00/1 coupon
Includes: Select varieties
Final Price: $5.99
Buy 1; Use $2.00/1 coupon
Includes: Select varieties
Out-of-Pocket Price: $5.00
Final Price: $4.00
Buy 1; Use $2.00/1 coupon; Includes Ibotta savings
Includes: Select varieties
Out-of-Pocket Price: $6.49
Final Price: $5.99
Buy 2; Use $3.00/2 coupon; Includes Ibotta savings