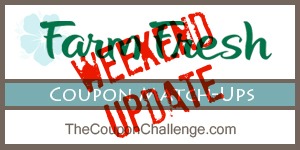 Get your weekend update for Farm Fresh $2 doubles today, Sunday! Mega Doubles runs today (Sunday 7/26) through Tuesday, 7/28. Don't forget about the weekly Facebook coupon valid through today – a FREE Essential Everyday 10 ct Waffles with an additional $10 purchase!
Don't forget to check all your weekly ad and monthly ad coupon matchups before shopping.
Let me know if you find other deals or have corrections!
Dollar Coupon Final Prices Assume

Shopping

on Wednesday or Sunday. Add $1 all other days of the week.
Double $1 coupons are on Wednesday & Sunday ONLY.
Double coupons up to and including $0.99 everyday.
Limit 2 like coupons per shopping visit.
Limit 20 coupons doubled per person per day.
B1G1 items ring at half price.
Doubles not allowed on coupons that state "Do Not Double".
Farm Fresh Military Discount Policy – Present a Military ID for 10% off Farm Fresh Family Brand Products everyday
Bring your reusable shopping bags for $0.05 off per bag
Learn about Using SavingStar Coupons at Farm Fresh
Get the Farm Fresh Coupon Policy
P&G
Pantene Shampoo/Conditioner, 12.60 oz $4
Use $5/3 OR $2/1, P&G 7/26
Final: as low as FREE
Swiffer Duster Starter Kit, 5 ct $4.49
Use $2/1, P&G 7/26
Final: $0.49 each
Ivory Bar Soap, 3 pack $1.49
Use $1/2 OR $0.40/1, P&G 7/26
Final: as low as $0.69 each
Gillette Satin Care Shave Gel, 7 oz $2.79
Use $1/1, P&G 7/26
Final: $0.79 each
Old Spice High Endurance Deodorant, 3 oz $2.99
Use $1/1, P&G 7/26
Final: $0.99 each
Pantene Pro-V Curl Perfection Defining Mousse, 6.60 oz $4
Use $1.50/1, P&G 7/26
Final: $1 each
Puffs Tissues, 56 ct $1.69
Use $0.25/1, P&G 7/26
Final: $1.19 each
Kid's Crest Toothpaste, 4.60 oz $2.49
Use $0.50/1, P&G 7/26
Final: $1.49 each
Tampax Pearl, 18 ct $5.49
Use $2/1, P&G 7/26
Final: $1.49 each
Crest Toothpaste, 6.40 oz $2.50
Use $1.50/2 OR $0.50/1, P&G 7/26
Final: as low as $1.50 each
Pampers Wipes, 64 ct $2.79
Use $0.50/1, P&G 7/26
Final: $1.79 each
Always Discreet Liners, 48 ct $5.99
Use $2/1, P&G 7/26
Final: $1.99 each
Clairol Nice 'n Easy Hair Color, $6
Use $5/2 OR $2/1, P&G 7/26
Final: as low as $2 each
Bounty Napkins, 160 ct $3.49
Use $1/2, P&G 7/26
Final: $2.49 each, when you buy 2
Crest Mouthwash, 8.40 oz $3.49
Use $0.50/1, P&G 7/26
Final: $2.49 each
Herbal Essences Body Wash, 15.80 oz $4.19
Use $2/2 OR $0.75/1, P&G 7/26
Final: as low as $2.69 each
Gillette Clear Gel Antiperspirant, 4 oz $4.89
Use $1/1, P&G 7/26
Final: $2.89 each
Secret Clinical, 1.60 oz $6.99
Use $2/1, P&G 7/26
Final: $2.99 each
Always Liners, 34 ct $3.99
Use $0.50/1, P&G 7/26
Final: $2.99 each
Tide Detergent, 46 oz $4.99
Use $1/1, P&G 7/26
Final: $2.99 each
Duracell Coppertop AA Batteries, 4 ct $5.29
Use $1/1, P&G 7/26
Final: $3.29 each
Secret Outlast, 2.60 oz $5.39
Use $1/1, P&G 7/26
Final: $3.39 each
Downy, 51 oz $4.49
Use $0.50/1, P&G 7/26
Final: $3.49 each
Old Spice Shampoo, 12 oz $4.99
Use $3/2, P&G 7/26
Final: $3.49 each, when you buy 2
Head & Shoulders, 13.50 oz $6.19
Use $5/2, P&G 7/26
Final: $3.69 each, when you buy 2
Swiffer WetJet Solution, 42.20 oz $5.99
Use $1/1, P&G 7/26
Final: $3.99 each
Zzzquil, 6 oz $5.99
Use $1/1, P&G 7/26
Final: $3.99 each
Olay Body Wash, 23.60 oz $6.99
Use $1/1, P&G 7/26
Final: $4.99 each
Meta Health Bar, 6 ct $9.99
Use $2/1 or $1/1, P&G 7/26
Final: as low as $5.99 each
Gillette Fusion Razor, $10.59
Use $3/1, P&G 7/26
Final: $7.59 each
Always Discreet Underwear, 19 ct $13.99
Use $2/1, P&G 7/26
Final: $9.99 each
Pampers Super Pack Size 4, 92 ct $24.99
Use $2/1, P&G 7/26
Final: $20.99 each
Red Plum (Unilever)
Tresemme Shampoo, 28 oz $4
Use $2/1, RP 7/26
Final: FREE
Domino Flip Top Sugar, 12 oz $2.29
Use $0.75/1, RP 7/26
Final: $0.79 each
Dove Hairspray, 9.25 oz $4.99
Use $2/1, RP 7/26
Final: $0.99 each
Suave Kids Shampoo, 12 oz $2
Use $1/2, RP 7/26
Final: $1 each, when you buy 2
Country Crock Spread, 15 oz $2.19
Use $0.50/1, RP 7/26
Final: $1.19 each
Angel Soft Bath Tissue, 4 rolls $2.39
Use $0.45/1, RP 7/26
Final: $1.49 each
Suave Deodorant, 2.60 oz $2.49
Use $0.50/1, RP 7/26
Final: $1.49 each


Lea & Perrins Worcestershire Sauce, 10 oz $3.69
Use $1/1, RP 7/26
Final: $1.69 each
Keebler Sandwich Crackers, 11 oz $2.99
Use $1/2, RP 7/26
Final: $1.99 each, when you buy 2



Suave Naturals Body Wash, 12 oz $3
Use $0.50/1, RP 7/26
Final: $2 each
Tresemme Hair Spray, 11 oz $4
Use $1/1, RP 7/26
Final: $2 each
Wisk Detergent, 50 oz $4.49
Use $1/1, RP 7/26
Final: $2.49 each
Axe Deodorant, 2.70 oz $5.69
Use $1.50/1, RP 7/26
Final: $2.69 each
Dove Men+Care Shampoo, 12 oz $4.99
Use $1/1, RP 7/26
Final: $2.99 each
Caress Body Wash, 13.50 oz $5.19
Use $1/1, RP 7/26
Final: $3.19 each
Dove Men+Care Antiperspirant, 3.80 oz $5.49
Use $1/1, RP 7/26
Final: $3.49 each
Dove Deodorant, 2.60 oz $5.49
Use $1/1, RP 7/26
Final: $3.49 each
Dove Shampoo/Conditioner, 12 oz $4.99
Use $3/2, RP 7/26
Final: $3.49 each, when you buy 2
Degree Clinical Antiperspirant, 1.70 oz $8.19
Use $2/1, RP 7/26
Final: $4.19 each
Dove Clinical Antiperspirant, 1.70 oz $8.19
Use $2/1, RP 7/26
Final: $4.19 each
Garnier Olia Hair Color, $8.99
Use $2/1, RP 7/26
Final: $4.99 each
Dove Men+Care Body & Face Bar, 6 pack $6.99
Use $1/1, RP 7/26
Final: $4.99 each
Dove Body Wash, 22 oz $6.99
Use $1/1, RP 7/26
Final: $4.99 each
Dove Beauty Bar, 6 pack $7.59
Use $1/1, RP 7/26
Final: $5.59 each
Red Plum (Quaker Cover)
Loreal Advanced Haircare Shampoo/Conditioner, 12.60 oz $3.99
Use $2/1, RP 7/26
Final: FREE
Cheerwine, 12 oz $1
Use $0.50/1, RP 7/26 (DND)
Final: $0.50 each
Texas Pete, 12 oz $1.89
Use $0.35/1, RP 7/26 (DND)
Final: $1.54 each
Margaret Holmes Italian Green Beans, 27 oz $1.79
Use $0.25/1, RP 7/26 (DND)
Final: $1.54 each
Lindy's Homemade Italian Ice, 36 oz $2.19
Use $0.50/1, RP 7/26 (DND)
Final: $1.69 each
Truvia Natural Sweetener, 40 ct $3.99
Use $1/1, RP 7/26
Final: $1.99 each
Lance Crackers, 6 ct $2.50
Use $1/2, RP 7/26 (DND)
Final: $2 each, when you buy 2
Butterball Turkey Bacon, 12 oz $2.79
Use $1/2, RP 7/26 (DND)
Final: $2.29 each, when you buy 2
Quaker Chewy Bars, 6.70 oz $3.19
Use $1/3, RP 7/26
Final: $2.52 each, when you buy 3
Loreal Advanced Hairspray, 3.40 oz $4.69
Use $1/1, RP 7/26
Final: $2.69 each
Loreal Excellence Haircolor, $7.99
Use $2/1, RP 7/26
Final: $3.99 each
Smithfield Bacon, 24 oz $5.99
Use $1/1, RP 7/26 (DND)
Final: $4.99 each
Smart Source (Healthy Essentials)
Dannon Light & Fit, 4 pack $2.29
Use $1/1, SS 7/26
Final: $0.29 each
KY Jelly, 4 oz $4.89
Use $2/1, SS 7/26
Final: $0.89 each
Rachael Ray Nutrish Dog Treats, 6.30 oz $3.99
Use $1.50/1, SS 7/26
Final: $0.99 each
Listerine Floss, 55 yds $2.99
Use $1/1, SS 7/26
Final: $0.99 each
Skintimate Shave Gel, 7 oz $3
Use $2/2, SS 7/26
Final: $1 each, when you buy 2
Band-Aid Adhesive Bandages, 60 ct $2.49
Use $2/3, SS 7/26
Final: $1.16 each, when you buy 3
Land O'Frost Canadian Bacon, 7 oz $2.99
Use $0.75/1, SS 7/26
Final: $1.49 each
Apple & Eve Fruitables, 8 pack $2.99
Use $1.50/2, SS 7/26
Final: $1.49 each, when you buy 2
Wet Ones, 40 ct $2.79
Use $0.50/1, SS 7/26
Final: $1.79 each
Visine, 0.50 oz $4.99
Use $1.50/1, SS 7/26
Final: $1.99 each
Post Raisin Bran, 20 oz $3.29
Use $0.55/1, SS 7/26
Final: $2.19 each
Tylenol, 24 ct $4.49
Use $1/1, SS 7/26
Final: $2.49 each
Listerine, 33.81 oz $4.99
Use $1/1, SS 7/26
Final: $2.99 each
Bengay, 2 oz $6.49
Use $1/1, SS 7/26
Final: $4.49 each
Children's Motrin, 4 oz $6.59
Use $1/1, SS 7/26
Final: $4.59 each
Smart Source (Back to School Cover)
Colgate Toothpaste, 4.60 oz $1
Use $1/2, SS 7/26
Final: 2 FREE
Scotch-Brite Scour Pad, $1.29
Use $1/2, SS 7/26
Final: $0.29 each, when you buy 2
Purell Hand Sanitizer, 8 oz $2.50
Use $1/1, SS 7/26
Final: $0.50 each
Starkist Pouches, 2.60 oz $1.49
Use $1/3, SS 7/26
Final: $0.82 each, when you buy 3
Colgate Optic White Mouthwash, 16 oz $4.99
Use $2/1, SS 7/26
Final: $0.99 each
Paper Mate Profile Ball Pens, 2 ct $2.09
Use $0.55/1, SS 7/26
Final: $0.99
Scrubbing Bubbles with Fantastik, 32 oz $2.99
Use $1/1, SS 7/26
Final: $0.99 each
Dole Tropical Fruit, 15.25 0z $1.99
Use $0.75/2, SS 7/26
Final: $1.24 each, when you buy 2
Irish Spring Gear Body Wash, 15 oz $5.29
Use $2/1, SS 7/26
Final: $1.29 each
Softsoap Premium Handsoap, 10 oz $2.50
Use $1/2, SS 7/26
Final: $1.50 each, when you buy 2
Paper Mate Mechanical Pencils, 5 ct $2.79
Use $0.55/1, SS 7/26
Final: $1.69 each
Sharpie Permanent Marker, 3 ct $3.19
Use $0.75/1, SS 7/26
Final: $1.69 each
Dole Fruit Bowls, 16 oz $2.69
Use $0.50/2, SS 7/26
Final: $2.19 each, when you buy 2
Palmolive Dish Soap, 25 oz $3.69
Use $1/2, SS 7/26
Final: $2.69 each, when you buy 2
U By Kotex Liners, 50 ct $4.39
Use $0.50/1, SS 7/26
Final: $3.39 each
Expo Dry Erase Markers, 4 ct $5.79
Use $1/1, SS 7/26
Final: $3.79 each