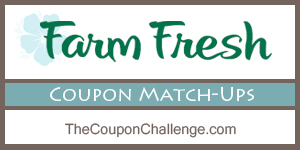 Farm Fresh matchups are done! Farm Fresh will be having their Mega Doubles coupon event from Friday May 13 – Sunday May 15. During this event, coupons up to $2 will double ($2 becomes worth $4 off, $1.50 becomes $3 off, etc). All other coupon rules apply (coupons stating "Do Not Double" will not double, only 2 like coupons will double, etc – see more below).
Keep reading to see the first list – I'll be updating as more coupons become available and on Sunday with the new inserts!
Let me know if you find other deals or have corrections!
Dollar Coupon Final Prices Assume Shopping on Wednesday or Sunday.  Add $1 all other days of the week.
Colgate Kids Mouthwash, 16.90 oz $4.49
Use $2/1 from 4/17 SS
Final Price: $0.49 each
Scrubbing Bubbles with Fantastik, 32 oz
Use $2/2 printable
Final Price: $0.50 each, when you buy 2
Excedrin, 24 ct $4.99
Use $2/1 from 5/8 SS
Final Price: $0.99 each
Infusium Shampoo, 16 oz $4.99
Use $2/1 printable
Final Price: $0.99 each
Suave Professionals Gold Shampoo, 12.60 oz $3.99
Use $1.50/1 from 4/24 SS
Final Price: $0.99 each
Playtex Sport Liners, 54 ct $5.99
Use $2/1 printable
Final Price: $1.99 each
Lunchables Uploaded, 17.70 oz $3.49
Use $1.50/2 printable
Final Price: $1.99 each, when you buy 2
Swiffer Dry Refills, 16 ct $4.99
Use $2/2 printable
Final Price: $2.99 each, when you buy 2
Carnation Breakfast Essentials, 6 pack $6.89
Use $2/2 from 5/01 SS
Final Price: $4.89 each, when you buy 2
Huggies Little Snugglers, 35 ct $8.97
Use $2/1 from 4/17 SS
Final Price: $4.97 each
Gain Flings, 31 ct $8.99
Use $2/1 printable
Final Price: $4.99 each
Perdue Oven Ready Roaster, 96 oz $11.99
Use $2/1 printable
Final Price: $7.99 each
See more Farm Fresh Deals I have posted
You might also like: