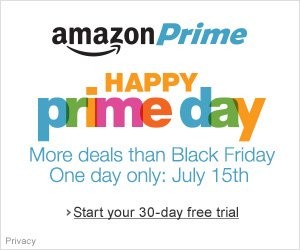 On July 15th, Amazon will have Amazon Prime Day ! What's this?  Amazon tells us we will see deals that are better  than last Black Friday-So get ready!
Amazon Prime Day is supposed to save us on all kinds of items like electronics, toys, video games, movies, clothing, patio, lawn and garden, and more!
If you aren't a Prime member, you can sign up now for a Free 30 Day Trial.  It's free for you to sign up and as long as you cancel before 30 days, you will not be charged-so hurry and sign up so you can be a part of this sale!