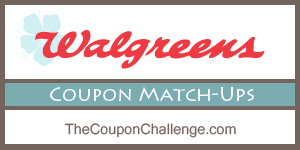 Walgreens Sale Ad Coupon Mathups have been updated! Please visit the
Walgreens sale ad coupon matchups
page to view the entire list of deals that start today. Make sure you're viewing the correct tab to get the right deals!
Walgreens now participates in the Balance Rewards Program. Make sure to get your card before shopping.
My local stores give a 15 % discount on Tuesdays for Military members and dependents with valid Military ID.
Walgreens Balance Rewards
Spend $6 on participating Gatorade products, Get 1000 Points (=$1.00)
Limit 8; With In Ad Coupon
Out-of-Pocket Price:
$0.79
Buy 8; Use In Ad Coupon; Includes 1000 Points (=$1.00)
Walgreens Register Rewards
Buy 1 participating Glade product, Get $1 Register Rewards
Glade Air Freshener Products – $5.49
Includes: Select Varieties; Pictured: Plug Ins Refill and Automatic Spray
$1.25/1 Glade Plugins Scented Oil Twin Refill – 3-8-15 SS; Includes (2) Single Refills (exp. 05/02/15)

$3.00/1 Glade Automatic Spray Starter Kit – 3-8-15 SS (exp. 05/02/15)
Out-of-Pocket Price:
$2.49
Buy Automatic Spray; Use $3.00/1 Coupon; Includes Ibotta Rebate; Buy Additional SC Johnson Products to Save More With SavingStar Rebate
Buy 2 participating Colgate products, Get $4 Register Rewards
Colgate Optic White Mouthwash, 16 oz – $4.00
2/$8 (or $4.79 Each)Includes: Select Varieties; Pictured: Optic White
$2.00/1 Colgate Mouthwash – 4-12-15 SS; 16 oz or larger (exp. 05/09/15)

$2.00/1 Colgate Mouthwash or Mouth Rinse – 4-12-15 SS; Includes 16 oz or Larger (exp. 05/09/15)
Out-of-Pocket Price:
$2.00
Buy 2; Use (2) $2/1 Coupons; Includes $4 Register Rewards
Colgate Toothpaste, 3 – 5.5 oz – $4.00
2/$8 (or $4.79 Each)Includes: Select Varieties; Pictured: Optic White Express White
$2.00/1 Colgate Optic White Express White, White Platinum or Enamel Health Toothpaste – 4-26-15 SS; Includes 3 oz or Larger (exp. 05/09/15)
Out-of-Pocket Price:
$2.00
Buy 2; Use (2) $2.00/1 Coupons; Includes $4 Register Rewards
Buy 3 participating Sensi products, Get $4 Register Rewards
Crest Sensi Mouthwash, 16.9 oz – $3.33
3/$10 (or $3.79 Each)
Out-of-Pocket Price:
$2.24
Buy 3; Use (3) $1.10/1 Coupons; Includes $4 Register Rewards
Oral-B Sensi-Soft Toothbrush – $3.33
3/$10 (or $3.79 Each)
$0.50/1 Oral-B Pulsar, 3D White, Pro-Health, Complete or Sensi-Soft Adult Toothbrush (Manufacturer's Coupon) – Walgreens Digital Coupon; Excludes Trial and Travel sizes (exp. 05/02/15)

$1.50/2 Oral-B Pulsar, 3D White, Pro-Health, Complete, Sensi-Soft, Pro-Health Stages, For Me, Jr, or Kid's Manual Toothbrushes – 3-29-15 PG; Excludes Trial or Travel Size, Limit of 4 Like Coupons Per Household Per Day (exp. 04/30/15)
Out-of-Pocket Price:
$2.67
Buy 3; Use $1.50/2 and $0.50/1 Coupons; Includes $4 Register Rewards
Canned Goods & Soups
Hunt's or Butterball; Mix & Match
Hunt's Tomato Sauce, 8 oz – $0.50
2/$1; Limit 4; With In Ad Coupon
Out-of-Pocket Price:
$0.50
Buy 3; Use In Ad Coupon; Includes Checkout 51 Rebate
Cookies, Snacks & Candy
M&M's, 9.9 – 14 oz – $2.50
2/$5 (or $2.99 Each)
$1.00/1 Mars M&M'S brand Chocolate Candies – 3-22-15 RP; Includes 9 oz or Larger; DND (exp. 05/03/15)

B1G1 FREE Mars M&M'S brand Crispy Chocolate Candies wyb M&M'S brand Chocolate Candies – 4-12-15 RP; Includes FREE Crispy Candies, 1.35 – 2.83 oz and other M&M'S, 9 oz or Larger; Maximum Value of $2.09; No Cash or Credit Back (exp. 05/24/15)
Buy 2; Use $(2) $1.00/1 Coupons and $1.00/ Walgreens IVC; Save More If Crispy Variety Included
Dairy
Chobani Greek Yogurt, 5.3 oz – $1.00
5/$5 (or $1.29 Each)
Personal Care
Garnier products; Mix & Match
Garnier Fructis Shampoo or Conditioner, 10.2 or 13 oz – $3.00
2/$6 (or $4.49 Each)
$2.00/1 Garnier Fructis Shampoo, Conditioner, Treatment, or Style Product – 4-26-15 RP; Excludes 1.7, 2 and 3 oz (exp. 05/23/15)
Buy 2; Use (2) $2.00/1 Coupons and $2.00/2 Walgreens IVC
Garnier Fructis Stylers Products – $3.00
2/$6 (or $4.49 Each)Includes: Select Varieties
$2.00/1 Garnier Fructis Shampoo, Conditioner, Treatment, or Style Product – 4-26-15 RP; Excludes 1.7, 2 and 3 oz (exp. 05/23/15)
Buy 2; Use (2) $2.00/1 Coupons and $2.00/2 Walgreens IVC
Refrigerated
Blue Bonnet, Butterball or Nice!; Mix & Match
Butterball Turkey Bacon, 6 oz – $1.25
2/$2.50 (or $1.39 Each)