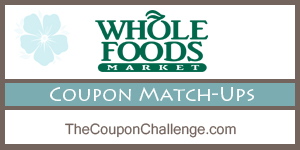 Whole Foods Market Mid-Atlantic region coupon matchups are complete! Please visit the Whole Foods Mid-Atlantic coupon matchups page for a complete list of deals! Make sure you are viewing the tab for the correct date.
Accepts 1 manufacture coupon per item
The Virginia Beach store allows coupon stacking – 1 manufacture and 1 Whole Foods store coupon per item
Whole Foods store coupons found online and in the Whole Deal Booklet in-store
Go digital with the New Way to Save at Whole Foods Market
Case Discounts of 10% off anything you can purchase by the case – 10% savings before coupons *inform cashier you are purchasing a case to ensure you get the discount!
Purchase the Whole Foods Market 2015 Calendar for more coupons
Bring your reusable shopping bag to receive 5¢ off per bag
See the Whole Foods Coupon Policy
Mid-Atlantic Region = DC, KY, MD, MRL, OH, PA & VA
New to shopping Whole Foods? Read my post How to Save Money at Whole Foods Market.
Cookies, Snacks & Candy
Angie's Boomchickapop Popcorn, 4.8 – 6 oz – $3.00
In: Select varieties
Gomacro Macrobars, 2 – 2.5 oz – $2.00
In: Select varieties
Happy Baby Organic Puffs, 2.1 oz – $2.50
In: Select varieties
Nature's Path Gluten Free Granola Bars, 5 pk 1.2 oz – $2.50
Frozen Foods
Saffron Road Frozen Entrees, 10 – 11 oz – $3.99
In: Select varieties
Final Price: $2.99
Buy 1; Use $1.00/1 Coupon; Includes Rebate Savings
Grains, Pasta & Sides
Lundberg Family Farms Organic Rice Blends, 6 oz – $2.79
In: Select varieties
Meat, Poultry & Fish
Beef, Ground, 93% Lean, per lb – $5.49
From USA
Chicken, Wings, Buffalo Cut, per lb – $2.49
From USA. Air-chilled.
Pork, Ribs, St. Louis, per lb – $5.49
From USA/Canada
Pharmacy
Boiron Chestal Cold & Cough, 6.7 fl oz – $7.99
Final Price: $6.99
Buy 1; Use $1.00/1 Coupon
Produce
Apples, Gala, Tote Bag, per lb – $0.99
From Pennsylvania
Apples, Ginger Gold, Tote Bag, per lb – $0.99
From Pennsylvania
Apples, McIntosh, Tote Bag, per lb – $0.99
From Pennsylvania
Leeks, Organic, per lb – $1.99
From California
Squash, Butternut, per lb – $0.99
From Pennsylvania