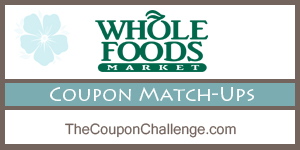 Whole Foods Market Mid-Atlantic region coupon matchups are complete! Please visit the Whole Foods Mid-Atlantic coupon matchups page for a complete list of deals! Make sure you are viewing the tab for the correct date.
Accepts 1 manufacture coupon per item
The Virginia Beach store allows coupon stacking – 1 manufacture and 1 Whole Foods store coupon per item
Whole Foods store coupons found online and in the Whole Deal Booklet in-store
Go digital with the New Way to Save at Whole Foods Market
Case Discounts of 10% off anything you can purchase by the case – 10% savings before coupons *inform cashier you are purchasing a case to ensure you get the discount!
Purchase the Whole Foods Market 2015 Calendar for more coupons
Bring your reusable shopping bag to receive 5¢ off per bag
See the Whole Foods Coupon Policy
Mid-Atlantic Region = DC, KY, MD, MRL, OH, PA & VA
New to shopping Whole Foods? Read my post How to Save Money at Whole Foods Market.
Beverages
Honest Tea Organic Lemonade, 32 oz – $1.50
In: Select varieties
O.N.E. Coconut Water, 33.8 oz – $3.50
Bread & Bakery
Euro Classic Imports Brioche Sliders, 9 pk – $5.99
Cookies, Snacks & Candy
Bearitos Corn Chips, 8.25 – 9 oz – $3.00
In: Select varieties
Dairy
Brown Cow Non-Fat Greek Yogurt, 5.3 oz – $1.00
In: Select varieties
Deli
Seaside Cheddar, per lb – $8.99
Ford Farm
Meat, Poultry & Fish
$50+ purchaseFresh, per lb
Sea Scallops, 10 – 20 ct, per lb – $18.99
Wild-caught. From USA.
Shrimp, Raw, Shell-On, 16 – 20 ct, per lb – $12.99
Wild-caught. Previously frozen.
Produce
Blueberries, Organic, pint – $3.99
From California / North Carolina
Corn, Bi Color, ea – $0.25
From Florida/Georgia
Grapes, Organic, per lb – $2.99
In: Red & Green. From Mexico
Onions, Vidalia, per lb – $0.69
From Georgia
Refrigerated
Hope Foods Organic Hummus, 8 oz. – $2.50
In: Select varieties