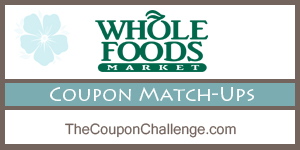 Whole Foods Market Mid-Atlantic region coupon matchups are complete! Please visit the Whole Foods Mid-Atlantic coupon matchups page for a complete list of deals! Make sure you are viewing the tab for the correct date.
Accepts 1 manufacture coupon per item
The Virginia Beach store allows coupon stacking – 1 manufacture and 1 Whole Foods store coupon per item
Whole Foods store coupons found online and in the Whole Deal Booklet in-store
Go digital with the New Way to Save at Whole Foods Market
Case Discounts of 10% off anything you can purchase by the case – 10% savings before coupons *inform cashier you are purchasing a case to ensure you get the discount!
Purchase the Whole Foods Market 2015 Calendar for more coupons
Bring your reusable shopping bag to receive 5¢ off per bag
See the Whole Foods Coupon Policy
Mid-Atlantic Region = DC, KY, MD, MRL, OH, PA & VA
New to shopping Whole Foods? Read my post How to Save Money at Whole Foods Market.
Beverages
Natures Way Umcka Cold Care Lemon Hot Drink, 10 ct – $8.99
Yogi Herbal Teas, 16 ct – $3.00
Bread & Bakery
Mediterra Mt. Athos Fire Bread, 24 oz – $3.99
Condiments, Spice & Baking
Frankies Extra Virgin Olive Oil, 17 oz – $14.99
Tessemae's All Natural Organic Dressings, 10 oz – $3.99
Cookies, Snacks & Candy
Unreal Halloween Candy, 4.2 oz – $4.99
Deli
Beef, Roast, Sliced, per lb – $9.99
Roasted in House. Available at Deli Counter.
Emmi Roth Cheddar Cheese, per lb – $6.99
Meat, Poultry & Fish
Beef, Steak, Sirloin, Boneless, per lb – $8.99
From USA
Changing Seas Roasted Smoked Salmon, 4 oz – $3.99
Norwegian. In: Plain or Pepper.
Chicken, Sausage, per lb – $4.99
Fresh at the WFM meat counter.
Halibut, Fillets, per lb – $19.99
From USA. Wild caught.
Pork, Ribs, St. Louis, per lb – $3.99
From USA/Canada
Salmon, Sockeye, Fillet, per lb – $13.99
From USA. Wild caught.
Personal Care
365 Everyday Value brand Effervescent Vitamin C, 30 ct – $0.25
Boiron Oscillococcinum, 6 dose – $7.99
Final Price: $5.99
Whole Foods Market Food-Cultured Multivitamins – 30% OFF
Produce
Apples, Honeycrisp, per lb – $1.99
From Pennsylvania
Grapes, Black, Seedless, Organic, per lb – $2.99
From California
Grapes, Green, Seedless, Organic, per lb – $2.99
From California
Grapes, Red, Organic, per lb – $2.99
From California
Peppers, Bell, Orange, per lb – $1.99
From Mexico
Peppers, Bell, Red, per lb – $1.99
From Mexico
Final Price: $1.74
Includes Ibotta Rebate Savings
Peppers, Bell, Yellow, per lb – $1.99
From Mexico
Refrigerated
Noosa Yoghurt, 4 oz – $3.99
Final Price: $3.44