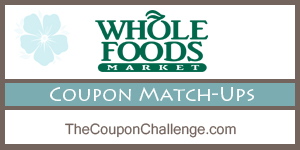 Whole Foods Market Mid-Atlantic region coupon matchups are complete! Please visit the Whole Foods Mid-Atlantic coupon matchups page for a complete list of deals! Make sure you are viewing the tab for the correct date.
Accepts 1 manufacture coupon per item
The Virginia Beach store allows coupon stacking – 1 manufacture and 1 Whole Foods store coupon per item
Whole Foods store coupons found online and in the Whole Deal Booklet in-store
Go digital with the New Way to Save at Whole Foods Market
Case Discounts of 10% off anything you can purchase by the case – 10% savings before coupons *inform cashier you are purchasing a case to ensure you get the discount!
Purchase the Whole Foods Market 2015 Calendar for more coupons
Bring your reusable shopping bag to receive 5¢ off per bag
See the Whole Foods Coupon Policy
Mid-Atlantic Region = DC, KY, MD, MRL, OH, PA & VA
New to shopping Whole Foods? Read my post How to Save Money at Whole Foods Market.
Beverages
Paromi Tea Bags, 15 ct – $6.99
In: Select varieties
San Pellegrino Sparkling Water, 25.3 oz – $1.25
In: Select varieties
Canned Goods & Soups
Organico Bello Organic Pasta Sauce, 25 oz – $4.99
In: Select varieties
Condiments, Spice & Baking
Spectrum Essentials Organic Unrefined Coconut Oil, 15 oz – $6.99
Cookies, Snacks & Candy
Annie's Homegrown Bunny Fruit Snacks, 5 ct, 0.8 oz – $3.00
In: Select varieties
Dairy
Brown Cow Nonfat Greek Yogurt, 5.3 oz – $1.00
In: Select varieties
Deli
Roth Reduced Fat Havarti Cheese, per lb – $6.99
Meat, Poultry & Fish
Bell & Evans Whole Organic Chicken, per lb – $2.29
Air-chilled
Chicken, Whole, Legs, per lb – $1.49
From USA. Air-chilled.
Pork, Loin Roast, Bone-In, per lb – $5.49
From USA/Canada
Salmon, Sockeye, Wild, Fillet, per lb – $12.99
From USA
Produce
Asparagus, per lb – $2.99
From Mexico
Grapes, Red, Seedless, per lb – $1.99
From Chile
Pepper, Bell, Red, Organic, per lb – $2.99
From Mexico
Peppers, Bell, Orange, Organic – $2.99
From Mexico
Peppers, Bell, Yellow, Organic, per lb – $2.99
From Mexico