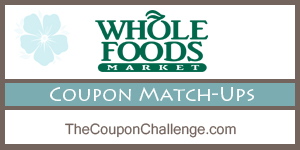 Whole Foods Market Mid-Atlantic region coupon matchups are complete! Please visit the Whole Foods Mid-Atlantic coupon matchups page for a complete list of deals! Make sure you are viewing the tab for the correct date.
Accepts 1 manufacture coupon per item
The Virginia Beach store allows coupon stacking – 1 manufacture and 1 Whole Foods store coupon per item
Whole Foods store coupons found online and in the Whole Deal Booklet in-store
Go digital with the New Way to Save at Whole Foods Market
Case Discounts of 10% off anything you can purchase by the case – 10% savings before coupons *inform cashier you are purchasing a case to ensure you get the discount!
Purchase the Whole Foods Market 2015 Calendar for more coupons
Bring your reusable shopping bag to receive 5¢ off per bag
See the Whole Foods Coupon Policy
Mid-Atlantic Region = DC, KY, MD, MRL, OH, PA & VA
New to shopping Whole Foods? Read my post How to Save Money at Whole Foods Market.
Beverages
Allegro Coffee, 12 oz – $9.99
Cafe Ubuntu Blend. Light Roast. Ground only.
Blue Diamond Almond Breeze Milk, 64 oz – $2.50
In: Select varieties
Final Price: $1.75
Buy 2; Use $1.50/2 coupon
Fiji Natural Artesian Water, 6 pk 16.9 oz bottles – $4.99
In: Select varieties
$0.50/1 Fiji Multipack – 5-22-16 SS; Includes 330 mL or Larger Only (exp. 06/22/16)
Final Price: $4.49
Harmless Harvest Coconut Water, 8.75 oz – $2.99 – B1G1
In: Select varieties
Final Price: $1.50
Breakfast & Cereal
Kind Healthy Grain Clusters, 11 oz – $3.99
In: Select varieties
Dairy
Cabot Creamery Catamount Hills Cheddar, per lb – $7.99
Final Price: $6.99
Diet Food & Drinks
Kuli Kuli Moringa Green Energy Shots, 2.5 oz – $2.99
In: Select varieties
Vega Sport Pre Workout Energizer, 19 oz – $34.99
In: Select varieties
Meat, Poultry & Fish
Chicken, Whole Fryer, per lb – $2.19
Air-chilled. From USA.
Pork, Chops, Bone-In, per lb – $3.99
From USA/Canada
Shrimp, Raw, Shell-On, 16 – 20 ct, per lb – $12.99
From USA. Wild-caught. Previously frozen.
Packaged Meats
Changing Seas Hot Roasted Smoked Salmon, 4 oz – $3.99
Produce
Fit by Whole Foods Market Packaged Entree Salads, 13 – 15 oz – $6.49
In: Select varieties
Grapes, Red, Seedless, Organic, per lb – $2.99
From California
Final Price: $2.74
Kale, Green, Organic, ea – $1.50
From Pennsylvania
Final Price: $1.25
Nectarines, Yellow, per lb – $1.99
From California