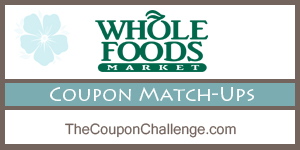 Whole Foods Market Mid-Atlantic region coupon matchups are complete! Please visit the Whole Foods Mid-Atlantic coupon matchups page for a complete list of deals! Make sure you are viewing the tab for the correct date.
Accepts 1 manufacture coupon per item
The Virginia Beach store allows coupon stacking – 1 manufacture and 1 Whole Foods store coupon per item
Whole Foods store coupons found online and in the Whole Deal Booklet in-store
Go digital with the New Way to Save at Whole Foods Market
Case Discounts of 10% off anything you can purchase by the case – 10% savings before coupons *inform cashier you are purchasing a case to ensure you get the discount!
Purchase the Whole Foods Market 2015 Calendar for more coupons
Bring your reusable shopping bag to receive 5¢ off per bag
See the Whole Foods Coupon Policy
Mid-Atlantic Region = DC, KY, MD, MRL, OH, PA & VA
New to shopping Whole Foods? Read my post How to Save Money at Whole Foods Market.
Beverages
Zevia Soda, 6 pk 12 oz cans – $3.50
In: Select varieties
Final Price: $0.50
Buy 1; Use $1.00/1 Coupon. Includes Rebate Savings.
Canned Goods & Soups
Pacific Organic Broth, 32 oz – $2.50
In: Select varieties
Pacific Organic Condensed Soup, 12 oz – $2.50
In: Cream of Mushroom or Cream of Chicken
Rao's Homemade Marinara Sauce, 32 oz – $5.99
Condiments, Spice & Baking
365 Everyday Value Walnuts, 8 – 16 oz – 50% OFF
Priced from $5.49 – $8.99In: Select varieties
Cookies, Snacks & Candy
Good Day Chocolate Supplements, 0.99 – 1.0 oz – $2.50
In: Select varieties
Kettle Brand Potato Chips, 5 oz – $2.00
In: Select varieties
Final Price: $1.50
Buy 2; Use $1.00/2 Coupon
Deli
Vermont Creamery Creme Fraiche, 8 oz – $3.99
In: Regular flavor
Final Price: $2.99
Buy 1; Includes Rebate Savings.
Frozen Foods
Luna and Larry's Coconut Bliss Non Dairy Dessert, 16 oz – $5.49
In: Select varieties
Wellshire Breakfast Sausages, 10 oz – $4.00
In: Turkey, Pork and Chicken varieties
Meat, Poultry & Fish
Chicken, Thighs, Boneless, Skinless, per lb – $3.99
From USA
Pork, Loin Roast, Boneless, per lb – $6.49
From USA/Canada
Shrimp, Raw, Shell-On, 36 – 40 ct, per lb – $9.99
Fresh. Farm raised in Ecuador.
Produce
Apples, Fuji, Organic, per lb – $1.99
From Washington State
Beans, French, 1 lb – $3.99
From Guatemala
Brussels Sprouts, 1 lb pkg – $2.50
From California
Potatoes, Gold, Organic, per lb – $1.29
From Canada