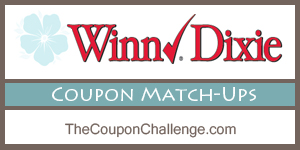 Winn-Dixie Grocery Store Coupon Matchups are done! Please visit the new
Winn-Dixie coupon matchups page
for a complete list of deals! Make sure you are viewing the tab for the correct date.
Accepts manufacturer and Winn-Dixie store coupons
Coupons that allow more than one free item (Buy One Get Two Free)
Competitor store coupons
"Stacking" is permitted; stacked coupons will redeem when one store coupon and one manufacturer coupon are used on the same item.
"Cash Back" can only be applied to any additional items within the purchase and cannot be applied to sales tax.
See the Winn-Dixie Coupon policy
Multi-Item Deals
Buy TWO (2) Red Barron Pizzas and Get 3 items free!
Red Baron Classic Pizza, 14.76 – 22.63 – $10.98
2 for
Buy (2); Use (1) $1.00/2 MFR coupon
B1G1
Hellmann's Real Mayo – $5.99 – B1G1
Keebler Sandies, 12 – 13 oz – $3.79 – B1G1
$0.50/2 Keebler Cookies, 6.6 oz or Larger – 2-15-15 RP (exp. 03/29/15)

$1.00/2 Keebler Cookies, 6.6 oz or Larger – 2-15-15 RP (exp. 03/29/15)
Buy (2); Use (1) $1.00 MFR coupon
Keebler Town House Crackers, 9.5 – 16 oz – $4.09 – B1G1
$0.50/2 Keebler Cookies, 6.6 oz or Larger – 2-15-15 RP (exp. 03/29/15)

$1.00/2 Keebler Cookies, 6.6 oz or Larger – 2-15-15 RP (exp. 03/29/15)
Buy (2); Use (1) $1.00 MFR coupon
Krusteaz Pancake Mix, 28 oz – $2.79 – B1G1
$0.55/1 Krusteaz Mix – 12-7-14 SS (exp. 03/31/15)
Buy (2); Use (1) $.55 MFR coupon
Nabisco Snack Crackers, 5.5 – 10 oz – $2.50 – B1G1
$1.00/1 Nabisco Multipack – 3-15-15 SS; Includes 9 oz or Larger (exp. 05/02/15)
Buy (2); Use (1) $1.00 MFR coupon
Sara Lee Sweet Goods, 10 – 13 oz – $4.49 – B1G1
$0.55/1 Sara Lee Breads – 3-1-15 SS; Includes 20 oz (exp. 06/01/15)
Buy (2); Use (1) $.55 MFR coupon
Breakfast & Cereal
Del Monte Peaches, 15.25 oz – $1.00
$0.50/1 Del Monte Canned Fruit, 15 oz or Larger – 1-11-15 RP (exp. 03/29/15)
Buy (1); Use (1) $.50 MFR coupon
Condiments, Spice & Baking
Dixie Crystals Sugar, 4 lb bag – $1.99
$0.55/1 Dixie Crystals Granulated, Light Brown, Dark Brown or Powdered Sugars – 3-22-15 SS; Includes Granulated, 3.4 lb or Larger or Light, Dark or Powdered, 2 lb poly bags
Buy (1); Use (1) $.55 MFR coupon
Martha White Muffin Mix, 7 – 7.7 oz – $1.00
Fuel Rewards
Earn an additional 5 per gallon for every 1 purchased
New England Coffee K-Cups, 12 ct – $7.99
$1.50/1 New England Coffee, Single Serve Box – 1-25-15 RP (exp. 04/05/15)

$1.50/1 New England Coffee – 3-8-15 RP; Includes Single Serve Boxes (exp. 05/03/15)
Buy (1); Use (1) $1.50 MFR coupon
Refrigerated
Dannon Activia Greek Yogurt, 4 pk – $3.50
Buy (1); Use (1) $1.00 MFR coupon