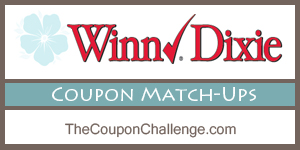 Winn-Dixie Grocery Store Coupon Matchups are done! Please visit the new Winn-Dixie coupon matchups page for a complete list of deals! Make sure you are viewing the tab for the correct date.
Accepts manufacturer and Winn-Dixie store coupons
Coupons that allow more than one free item (Buy One Get Two Free)
Competitor store coupons
"Stacking" is permitted; stacked coupons will redeem when one store coupon and one manufacturer coupon are used on the same item.
"Cash Back" can only be applied to any additional items within the purchase and cannot be applied to sales tax.
See the Winn-Dixie Coupon policy
Thanksgiving Feast Essentials – Stores will be open until 4pm Thanksgiving Day to grab all your ingredients for an amazing meal.
B1G1 final price based on single item final cost after B1G1 and all coupons and rebates
B1G1
Heinz Ketchup, 20 oz – $2.60 – B1G1
Final Price: $1.30
Mt. Olive Pickles, 24 oz – $3.29 – B1G1
Final Price: $0.40
buy 2; use (2) $1.25/1 coupons after hopster boost!
Pop Secret Microwave Popcorn, 3 ct – $3.49 – B1G1
Out-of-Pocket Price: $1.75
Final Price: $1.20
after snap rebates – no limit
Beverages
Community Coffee, 12 oz – $3.50
$1.50/1 Community Bagged or K-Cups Coffee – 10-4-15 RP; Limit 1 coupon per customer per day (exp. 11/30/15)

$4.00/2 Community Bagged or K-Cups Coffee – 10-4-15 RP; Limit 1 coupon per customer per day (exp. 11/30/15)
Final Price: $1.50
Breakfast & Cereal
Out-of-Pocket Price: $1.50
Final Price: $0.50
buy 1; use (1) $1/1 coupon and after $1/1 MobiSave rebate
Condiments, Spice & Baking
Carnation Evaporated Milk, 12 oz – $1.00
$0.55/2 Carnation Evaporated Milk Cans – 11-8-15 RP; Includes 12 oz Only (exp. 12/31/15)
Out-of-Pocket Price: $0.75
Final Price: $0.50
buy 2; use (1) .50/2 coupon and after .50/2 Checkout 51 Rebate
Domino Confectioner's Sugar, 16 oz – $1.00
$0.50/2 Domino Brown or Confectioners Sugar – 11-1-15 RP; Includes 1 lb Box Only; Limit 1 Coupon To A Customer (exp. 01/09/16)

$1.00/2 Domino Brown or Confectioners Sugar – 11-1-15 RP; Includes 1 lb Box Only; Limit 1 Coupon To A Customer (exp. 01/09/16)

$1.00/2 Domino Sugar Products – 9-13-15 RP; Includes 2 lbs or Larger (exp. 11/30/15)
Final Price: $0.50
Buy 2, use (1) $1/2 coupon
Domino Dark Brown Sugar, 16 oz – $1.00
$0.50/2 Domino Brown or Confectioners Sugar – 11-1-15 RP; Includes 1 lb Box Only; Limit 1 Coupon To A Customer (exp. 01/09/16)

$1.00/2 Domino Brown or Confectioners Sugar – 11-1-15 RP; Includes 1 lb Box Only; Limit 1 Coupon To A Customer (exp. 01/09/16)

$1.00/2 Domino Sugar Products – 9-13-15 RP; Includes 2 lbs or Larger (exp. 11/30/15)
Final Price: $0.50
Buy 2, use (1) $1/2 coupon
Domino Light Brown Sugar, 1 lb – $1.00
$0.50/2 Domino Brown or Confectioners Sugar – 11-1-15 RP; Includes 1 lb Box Only; Limit 1 Coupon To A Customer (exp. 01/09/16)

$1.00/2 Domino Brown or Confectioners Sugar – 11-1-15 RP; Includes 1 lb Box Only; Limit 1 Coupon To A Customer (exp. 01/09/16)

$1.00/2 Domino Sugar Products – 9-13-15 RP; Includes 2 lbs or Larger (exp. 11/30/15)
Final Price: $0.50
Buy 2, use (1) $1/2 coupon
Nutella Spread, 13 oz – $3.00
$2.00/1 Nutella – 11-15-15 SS; Includes 26.5 oz Only (exp. 01/17/16)
Final Price: $1.00
Sabra Guacamole, 8 oz – $2.50
Final Price: $1.50
Sabra Hummus, 8 – 10 oz – $2.50
Final Price: $1.50
Frozen Foods
Red Baron Frozen Pizza – $4.25
$1.00/2 Red Baron Pizzas – 10-18-15 SS; Includes 7.2 oz or Larger Only; DND (exp. 11/28/15)
Out-of-Pocket Price: $3.75
Final Price: $2.75
buy 2; use (1) $1/2 coupon and after Ibotta rebate
Home Supplies
Angel Soft Bathroom Tissue, 4 Double Rolls – $2.10
$0.45/1 Angel Soft Bathroom Tissue – 11-1-15 RP (exp. 12/01/15)

$1.00/2 Angel Soft Bathroom Tissue – 11-1-15 RP (exp. 12/01/15)
Final Price: $1.65
Meat, Poultry & Fish
Pork, Loin, Boneless, per lb – $2.55
Packaged Meats
Jimmy Dean Breakfast Sausage, 10 – 16 oz – $3.34
includes; roll, links or patties
$0.55/1 Jimmy Dean Breakfast Product – 11-1-15 RP; Excludes Single Serve Sandwiches (exp. 11/29/15)

$1.00/1 Jimmy Dean Breakfast Product – 11-1-15 RP; Excludes Single Serve Sandwiches (exp. 11/29/15)
Final Price: $2.34