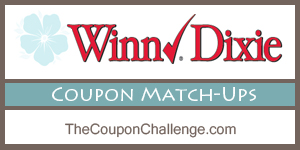 Winn-Dixie Grocery Store Coupon Matchups are done! Please visit the new Winn-Dixie coupon matchups page for a complete list of deals! Make sure you are viewing the tab for the correct date.
Accepts manufacturer and Winn-Dixie store coupons
Coupons that allow more than one free item (Buy One Get Two Free)
Competitor store coupons
"Stacking" is permitted; stacked coupons will redeem when one store coupon and one manufacturer coupon are used on the same item.
"Cash Back" can only be applied to any additional items within the purchase and cannot be applied to sales tax.
See the Winn-Dixie Coupon policy
Stores Open Thanksgiving Day until 4pm
Earn 3X fuel perks with every $50 spent on Gift Cards thru 11/29/16
B1G1
Eight O'Clock Coffee, 12 oz – $6.99 – B1G1
$1.00/1 Eight O'Clock Coffee – 9-25-16 SS (exp. 11/30/16)
Final Price: $2.50
Lindsay Extra Large Olives, 6 oz – $2.29
Select Varieties
Final Price: $0.65
Mama Lucia, Meatballs, 14 – 20 oz – B1G2 – Buy One Get TWO Free!!!!!
Nabisco Ritz Crackers, 6 – 15.1 oz – $3.29 – B1G1
$0.75/2 Nabisco Cookie or Cracker Products – 11-6-16 SS; Includes 3.5 oz or Larger Only (exp. 12/17/16)

$1.00/3 Nabisco Cookie or Cracker Products – 11-6-16 SS; Includes 3.5 oz or Larger Only (exp. 12/17/16)
Out-of-Pocket Price: $1.27
Final Price: $0.70
buy 2; use .75/2 coupon and after $1.15/2 checkout 51 rebate
Oscar Mayer Bacon, 12 or 16 oz – $7.99 – B1G1
submit rebate with $16 or more in listed products
Planters Peanuts, 16 oz – $4.49 – B1G1
$1.00/2 Planters Products – 11-13-16 SS; Includes 6 oz or Larger Only (exp. 12/25/16)
Out-of-Pocket Price: $1.75
Final Price: $1.25
buy 2; use $1/2 coupon and after $1/2 mobisave rebate
Purina Dog Chow Dog Food, 4 – 4.4 lb – $5.99 – B1G1
$2.00/1 Purina Chow Dog or Puppy Food – 9-25-16 RP; Includes 3.8 lb or Larger Only (exp. 12/25/16)
Final Price: $1.00
Buy 2; Use (2) $2/1 coupons
Beverages
Community Coffee, 12 oz – $4.50
$4.00/2 Community Coffee Bag or K-Cup – 9-11-16 RP (exp. 12/31/16)
Final Price: $2.50
Condiments, Spice & Baking
Dominos Granulated Sugar, 4 lb bag – $2.00
$1.00/1 Domino Sugar Products – 11-6-16 RP; Includes 2 lb or More (exp. 01/15/17)

$1.00/2 Domino Sugar Products – 9-25-16 RP; Includes 2 lbs or Larger Only (exp. 12/03/16)
Final Price: $1.00
use $1/1 coupon
Frozen Foods
Fisherman's Wharf Fillets, 12 – 16 oz – $7.99 – B1G1
Includes: Cod, Tilapia, Whiting, Flounder, or Swai
Packaged Meats
Jimmy Dean Sausage, 16 oz roll – $3.33
$1.00/1 Jimmy Dean Fresh Sausage Roll – 11-13-16 RP; DND (exp. 12/11/16)
Final Price: $2.33
Personal Care
Suave Professionals Shampoo or Conditioner, 8.5 – 12.6 oz – $2.00
Includes: Green or Silver Bottles
$2.00/2 Suave Professionals Shampoo or Conditioner or Treatment Products – 11-6-16 RP; Includes 28 oz Only; Excludes Trial and Travel Size; Maximum of 2 Identical Coupons In Same Shopping Trip (exp. 11/20/16)
Final Price: $1.00
Buy 1; Use $1.00/1 coupon
Produce
Sweet Potatoes, per lb – $0.49