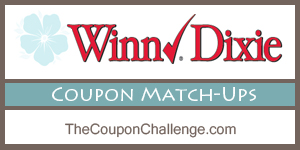 Winn-Dixie Grocery Store Coupon Matchups are done! Please visit the new
Winn-Dixie coupon matchups page
for a complete list of deals! Make sure you are viewing the tab for the correct date.
Accepts manufacturer and Winn-Dixie store coupons
Coupons that allow more than one free item (Buy One Get Two Free)
Competitor store coupons
"Stacking" is permitted; stacked coupons will redeem when one store coupon and one manufacturer coupon are used on the same item.
"Cash Back" can only be applied to any additional items within the purchase and cannot be applied to sales tax.
See the Winn-Dixie Coupon policy
Multi-Item Deals
Buy 1 Kingsford Charcoal and get these items FREE!
Kingsford Charcoal, 11.1 – 16.6 lb – $11.59
Buy any 4 Participating Boxes of Cereal, Bars or Eggo's and Get 1 Gallon of Milk FREE!
Kellogg's Eggo Waffles, 10.75 – 12.3 oz – $2.50
Buy (1); Use (1) $1.00 coupon
Kellogg's Nutri-Grain Bars, 7.4 – 10.4 oz – $2.50
$1.00/2 Kellogg's Nutri-Grain Cereal Bars, Crunch or Fruit & Oat Harvest Bars – 3-8-15 RP; Includes 5 ct or Larger
Buy (2); Use (1) $1.00/2 coupon
Buy two (2) Tyson Chicken products and get these three items free!
Tyson Breaded Chicken Strips, 25 oz – $14.98 – for 2
$1.00/1 Tyson Honey BBQ, Buffalo, or Bagged Chicken Strips – Valpak Great Grocery Savings Mailer (exp. 04/18/15)
Buy (2); Use (2) $1.00 coupon
B1G1
Juicy Juice, 64 oz – $3.49 – B1G1
Buy (4); Use (1) $1.00/2 coupon
Keebler Fudge Shoppe, 7 – 12 oz – $3.99 – B1G1
$0.50/2 Keebler Cookies, 6.6 oz or Larger – 2-15-15 RP (exp. 03/29/15)

$1.00/2 Keebler Cookies, 6.6 oz or Larger – 2-15-15 RP (exp. 03/29/15)
Buy (2); Use (1) $1.00 coupon
Ken's Salad Dressings, 16 oz – $3.69 – B1G1
$0.50/1 Ken's Salad Dressing – 3-18-15 SS; Includes 16 oz or Larger

$1.00/2 Ken's Salad Dressing – 3-18-15 SS; Includes 16 oz or Larger (exp. 04/30/15)

$1.00/2 Ken's Salad Dressing – 3-18-15 SS; Includes 9 oz

$0.75/1 Ken's Dressing – 3-8-15 SS (exp. 04/30/15)

$1.00/1 Ken's Caesar Dressing – 3-8-15 SS; Includes 16 oz or Larger (exp. 04/30/15)
Buy (2); Use (1) $1.00 coupon
Nabisco Honey Maid Grahams, 7 – 14.4 oz – $4.29 – B1G1
$0.75/2 Nabisco Honey Maid Grahams, Go Bites or Grahamfuls, 7 oz or Larger – 1-25-15 SS (exp. 03/14/15)

$1.00/2 Nabisco Honey Maid Grahams, Go Bites or Grahamfuls, 7 oz or Larger – 1-25-15 SS (exp. 03/14/15)
Buy (4); Use (1) $1.00/2 coupon
Progresso Soups, 19 oz – $2.39 – B1G1
$0.50/3 Progresso Canned Soups – 2-1-15 SS (exp. 03/28/15)

$1.00/6 Progresso Canned Soups – 2-1-15 SS (exp. 03/28/15)
Buy (2); Use (1) $.50/2 coupon
Sara Lee Honey Wheat Bread, 20 oz – $3.39 – B1G1
$0.55/1 Sara Lee Breads – 3-1-15 SS; Includes 20 oz (exp. 06/01/15)
Buy (2); Use (1) $.55 coupon
Beverages
Dannon Activia Yogurt, 4 pk – $2.00
Buy (1); Use (1) $1.00 coupon
Frozen Foods
Gorton's Fishsticks, fillets, sandwiches or Chrunchy popcorn Shrimp, 14 – 19 oz – $4.99
$0.50/1 Gorton's Grilled Fish Item, 6.3 – 7.1 oz – 1-4-15 SS (exp. 04/11/15)

$1.00/1 Gorton's Grilled Fish Item, 6.3 – 7.1 oz – 1-4-15 SS (exp. 04/11/15)
Buy (1); Use (1) $1.00 coupon
Fuel Rewards
Earn an additional 5¢ per gallon for every 5 purchased
Yoplait Greek 100 Yogurt, 4 – 5.3 oz – $1.00
Buy (5); Use (1) $1.00/5 coupon
Grains, Pasta & Sides
Hamburger Helpers, 4.7 – 12.2 oz – $1.00
$0.75/3 Betty Crocker Helper Regular or Ultimate Skillet Dishes – 2-1-15 SS (exp. 03/28/15)

$1.00/3 Betty Crocker Helper Regular or Ultimate Skillet Dishes – 2-1-15 SS (exp. 03/28/15)

$0.50/1 General Mills Betty Crocker Helper – 3-1-15 SS; Regular or Ultimate (exp. 04/25/15)

$0.50/1 Helper or Ultimate Skillet Dish – 3-1-15 SS (exp. 04/25/15)

$1.00/5 Betty Crocker Helper or Ultimate Helper Skillet Dishes (exp. 04/25/15)
Buy (1); Use (1) $.50 coupon
Knorr Rice OR Pasta And Sauce Sides, 4.2 – 5.8 oz – $1.00
Home Supplies
Clorox Liquid Bleach, 121 oz – $3.75
$0.50/1 Clorox Concentrated Regular-Bleach; Write Review To Access; Limit of 4 Like Coupons In Same Shopping Trip

$1.00/2 Clorox Clean-Up, Liquid Bleach or Disinfecting Wipes, 34 ct or Larger – 1-4-15 SS (exp. 03/11/15)

$5.00/$25.00 Glad Trash Bags, Clorox Wipes Product (Disinfecting, Dust & Glass), Clorox Liquid Bleach, Clorox Toilet Bowl Cleaners (Auto and Manual), Clorox ToiletWand, Clorox Pump 'N Clean Cleaner, Clorox Clean Up Cleaner, and Clorox Scrub Singles; Excludes Clorox 2 Products, Oxi Max Products, Fraganzia, or Tools; Must Spend $25 – Upromise Rebate (exp. 04/30/15)
OxiClean Laundry Detergent, 60 oz – $4.99
$2.00/1 OxiClean Laundry Detergent – 3-1-15 SS (exp. 04/26/15)
Buy (1); Use (1) $3.00 coupon
Packaged Meats
Butterball Turkey Bacon, 12 oz – $2.50
Buy (1); Use (1) $.75 coupon
Refrigerated
Pillsbury Biscuits, Rolls or Crescents, 4 -5 ct – $1.25
$0.30/2 Pillsbury Refrigerated Grands! Biscuits – 1-25-15 SS (exp. 04/18/15)

$0.40/3 Pillsbury Refrigerated Grands! or Grands! Jr. Biscuit Varieties – 1-25-15 SS (exp. 04/18/15)

$1.00/3 Pillsbury Refrigerated Grands! Biscuits – 1-25-15 SS (exp. 04/18/15)

$0.30/2 Pillsbury Refrigerated Grands! Biscuits – 1-4-15 SS (exp. 03/28/15)

$0.40/3 Pillsbury Grands! or Grands! Jr. Biscuits – 1-4-15 SS (exp. 03/28/15)

$1.00/3 Pillsbury Refrigerated Grands! Biscuits – 1-4-15 SS (exp. 03/28/15)
Buy (3); Use (1) $1.00/3 coupon