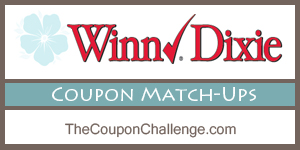 Winn-Dixie Grocery Store Coupon Matchups are done! Please visit the new
Winn-Dixie coupon matchups page
for a complete list of deals! Make sure you are viewing the tab for the correct date.
Accepts manufacturer and Winn-Dixie store coupons
Coupons that allow more than one free item (Buy One Get Two Free)
Competitor store coupons
"Stacking" is permitted; stacked coupons will redeem when one store coupon and one manufacturer coupon are used on the same item.
"Cash Back" can only be applied to any additional items within the purchase and cannot be applied to sales tax.
See the Winn-Dixie Coupon policy
Download the NEW "My Winn Dixie App" for a free Dozen Eggs!This weeks ad is full of 1/2 price deals which is equal to B1G1 but are stand alone at 1/2 price!!
Beverages
Pure Leaf Tea, 59 oz – $1.25
$1.00/1 Pure Leaf Carafe – 5-3-15 SS; Includes 59 oz (exp. 07/06/15)
Silk Beverages, 64 oz – $3.00
Select Varieties
Out-of-Pocket Price:
$2.00
Buy 1, Use (1) $1.00/1 Coupon and send for rebates from Ibotta and MobiSave
Bread & Bakery
Arnold Wide Pan Breads, 24 oz – $2.15
$0.55/1 Arnold Sliced Bread Products – 3-15-15 SS; DND (exp. 06/15/15)

$0.55/1 Arnold Sliced Bread Products – 4-19-15 SS; DND (exp. 07/31/15)
Oroweat Wide Pan Bread, 24 oz – $2.15
$0.50/1 Oroweat Sliced Bread or Sandwich Thins Rolls Products; DND – 1-18-15 SS (exp. 04/30/15)

$0.55/1 Oroweat Sliced Bread Products – 3-15-15 SS; DND (exp. 06/15/15)

$0.55/1 Oroweat Sliced Bread Products – 4-19-15 SS; DND (exp. 07/31/15)
Breakfast & Cereal
Post Cereal, 11 – 12.5 oz – $1.90
Select Varieties
Out-of-Pocket Price:
$1.90
Cookies, Snacks & Candy
Frito-Lay Lay's Chips, 7 – 10.5 oz – $2.15
Out-of-Pocket Price:
$2.15
After rebate
Little Debbie Snack Cakes, 10.6 – 16.2 oz – $1.25
$0.95/1 Little Debbie Snacks – 3-29-15 SS; Excludes; DND (exp. 06/28/15)
Pringle's Chips, 5.6 – 6.4 oz – $1.33
Out-of-Pocket Price:
$1.33
After rebate
Dairy
Breyers Ice cream or Frozen Dairy Desserts, 48 oz. – $2.99
$3.00/3 Popsicle, Magnum, Klondike, Breyers Gelato Indulgences, Fruttare, or Good Humor Ice Cream Products – 5-3-15 RP; Excludes Trial or Travel Size; Popsicle, 6 – 8 ct; Breyers Ice Cream; Breyers Frozen Dairy Dessert; and Breyers Frozen Novelties; Maximum 2 Identical Coupons Allowed In Same Shopping Trip (exp. 05/31/15)
Buy 3, Use (1) $3.00/3 Coupon
Kemps Frozen Yogurt, 48 oz – $3.15
$1.50/2 Kemps Frozen Yogurt – 4-19-15 SS; Includes 1.5 qt (exp. 05/30/15)
Buy 2, Use (1) $1.50/2 coupon
Grains, Pasta & Sides
Ronzoni Pasta, 12 – 16 oz – $0.90
buy 2, use (1) $1.00/2 coupon
Zatarain's Rice Dinner Mix, 7 – 8.8 oz – $1.10
$0.50/2 Zatarain's Rice or Pasta Dinner Mixes – 4-12-15 RP (exp. 05/23/15)

$0.75/1 Zatarain's Rice or Pasta Dinner Mixes – 4-12-15 RP (exp. 05/23/15)

$1.00/3 Zatarain's Rice or Pasta Dinner Mixes – 4-12-15 RP (exp. 05/23/15)
Packaged Meats
Hormel Natural Choice Lunchmeat, 8 oz – $2.50
Mission Tortillas, 10 ct – $1.50
Sea Pak Frozen Shrimp, 12 – 18 oz – $4.00
$1.50/1 Seapak Product, 8 oz or Larger – 2-8-15 SS (exp. 04/30/15)
Pet Care
Friskies Party Mix, 2.1 oz – $1.50
B1G1 Purina Friskies Party Mix – 3-29-15 SS; Includes 2.1 oz; Maximum Value $1.69 (exp. 06/29/15)
Purina Beneful Dry Dog Food, 14 – 15.5 lb – $13.99
$2.00/1 Purina Beneful Dry Dog Food – 4-26-15 SS; Includes 3.5 lb or Larger
Refrigerated
Sabra Salsa, 16 oz – $2.00