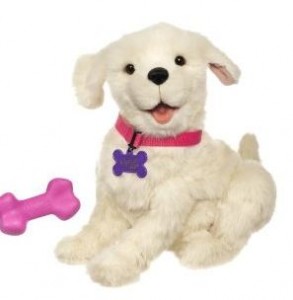 I'm told that these ended up being popular on Black Friday and this is the best price since the Walmart BF ad (now sold out). Order Fur Real Friends Cookie Puppy
for $56.74 shipped (was $64.99!) The savings isn't great, but if you need this product it could be a good price.  My daughter has this toy.  She often leaves it on and then it scares me when I walk by and it bark or growls.
When you tell her just how sweet she is, she?ll respond with puppy babble that sounds just like she?s talking to you, she loves her squeaky toy
When you put her toy bone in her mouth, she?ll make crunching sounds like she?s chewing it
This soft, adorable pup is about 14″ tall and you can either sit her up or pose her front legs so she?s lying down
The very best thing about cookie my playful pup is that she?ll always be puppy-cute
Pet her back and she?ll bark and wag her tail, she?s so soft, puppy comes with squeaky toy bone
Your order will qualify for FREE shipping with Super Saver Shipping on orders over $25 or with Amazon Prime.
Product prices and availability are accurate as of the date/time indicated and are subject to change. Any price and availability information displayed on amazon.com at the time of purchase will apply to the purchase of this product.
Thanks, Mom on Dealz!