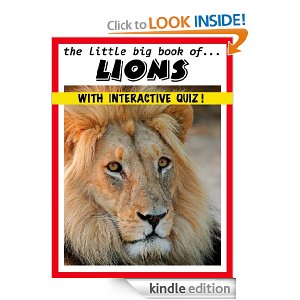 Does your child enjoy books about animals? Today you can download The Little BIG Book of Lions – Fun, Facts, Photos AND an Interactive Quiz
by Sara Adams for FREE on Amazon.
Beautiful photos, well researched information AND an interactive quiz. The Little Big Books series of wildlife books are about just two things: education and FUN!

Packed with essential information about their favorite animals, written with warmth and humor and including every child's favorite: an interactive multiple choice quiz.

Read them together with your 3 – 5 year old or give them as gifts to your 6 – 8 year old to enjoy by themselves.
Don't have a Kindle?
This ebook is specifically for Kindles. However, you can download a free application which enables you to read Kindle ebooks on your computer, iphone, Android, Blackberry, iPad and more.
You can also download the same FREE ebooks for the Nook over at the Barnes & Nobles site!
Why pay for books when you can get them free? See more FREE offers!
Product prices and availability are accurate as of the date/time indicated and are subject to change. Any price and availability information displayed on amazon.com at the time of purchase will apply to the purchase of this product.