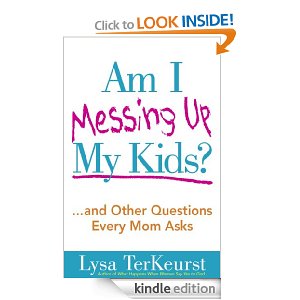 Amazon is offering Am I Messing Up My Kids?
for $2.51 – was $12.99!!
Lysa TerKeurst, mother of five and president of Proverbs 31 Ministries, knows about the bouts of "mommy stress" that come with parenting and managing a home and a life. From her own experience and conversations with hundreds of other women, Lysa shares how mothers can release the guilt they sometimes feel and
stop blaming their parenting skills every time a child does something wrong
let kids live with the consequences of their bad choices
simplify life to create breathing room
quit comparing themselves to "perfect" moms
turn to God for support, guidance, and patience
Yes, I have asked myself this question many times. We, as parents, do what we think is best but sometimes you wonder…
Don't have a Kindle?
This ebook is specifically for Kindles. However, you can download a free application which enables you to read Kindle ebooks on your computer, iphone, Android, Blackberry, iPad and more.
Product prices and availability are accurate as of the date/time indicated and are subject to change. Any price and availability information displayed on amazon.com at the time of purchase will apply to the purchase of this product.