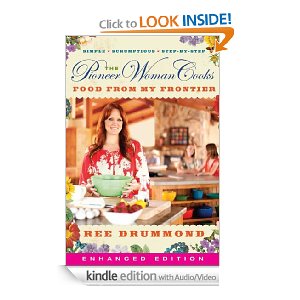 The popular The Pioneer Woman Cooks: Food from My Frontier (Enhanced)
by Ree Drummond is available for just $3.99 (was $29.99) right now!  While it's not free, this is a great price for this cookbook.
The Pioneer Woman Cooks: Food from My Frontier is a mouthwatering collection of the simple-but-scrumptious recipes that rotate through my kitchen on a regular basis, including Cowgirl Quiche, Sloppy Joes, Italian Meatball Soup, White Chicken Enchiladas, and a spicy Carnitas Pizza that'll win you over for life. There are also some elegant offerings for more special occasions at your house: Osso Buco, Honey-Plum-Soy Chicken, and Rib-Eye Steak with an irresistible Onion-Blue Cheese Sauce. And the decadent assortment of desserts, including Blackberry Chip Ice Cream, Apple Dumplings, and Coffee Cream Cake, will make your heart go pitter-pat in the most wonderful way.
Don't have a Kindle?
This ebook is specifically for Kindles. However, you can download a free application which enables you to read Kindle ebooks on your computer, iphone, Android, Blackberry, iPad and more.
Product prices and availability are accurate as of the date/time indicated and are subject to change. Any price and availability information displayed on amazon.com at the time of purchase will apply to the purchase of this product.