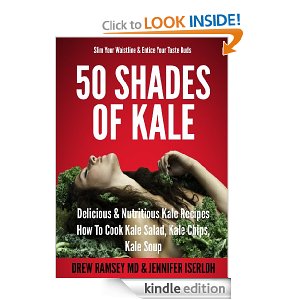 The title of this ebook made me giggle. You can download 50 Shades Of Kale: Delicious & Nutritious Kale Recipes – How To Cook Kale Salad, Kale Chips, Kale Soup
for FREE on Amazon. The regular price is $9.99 and can change back at anytime.
• Complete nutritional stats for each recipe (less then 400 calories for each)
• Healthy Eating & Shopping Guidelines
• Brain and Health Benefits of Kale Review
• One-Day Menu Plan
• Three-Day Menu Plan
• Resources
• Bonus Materials and Cooking Videos
• Breakfast Recipes
• Lunch & Dinner Recipes
• Sides, Dips & Appetizer Recipes
• Drink Recipes
• Dessert Recipes
Don't have a Kindle?
This ebook is specifically for Kindles. However, you can download a free application which enables you to read Kindle ebooks on your computer, iphone, Android, Blackberry, iPad and more.
You can also download the same FREE ebooks for the Nook over at the Barnes & Nobles site!
Why pay for books when you can get them free? See more FREE offers!
Product prices and availability are accurate as of the date/time indicated and are subject to change. Any price and availability information displayed on amazon.com at the time of purchase will apply to the purchase of this product.