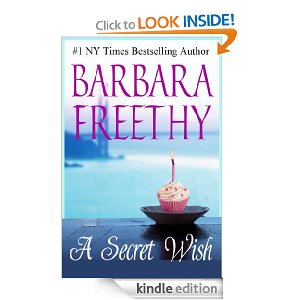 Download A Secret Wish (Wish Series #1)
by Barbara Freethy for FREE on Amazon today.
Three women, three birthdays and one unforgettable night that will change their lives forever.
One night in San Francisco, three women make a birthday wish believing it can't possibly come true. Liz is turning thirty. A successful nurse, she has a good career, but no man to share her life. All her friends are married, and she's alone, still trying to outrun a tragedy from her past. Then she meets a handsome stranger.
Don't have a Kindle?
This ebook is specifically for Kindles. However, you can download a free application which enables you to read Kindle ebooks on your computer, iphone, Android, Blackberry, iPad and more.
You can also download the same FREE ebooks for the Nook over at the Barnes & Nobles site!
Why pay for books when you can get them free? See more FREE offers!
Product prices and availability are accurate as of the date/time indicated and are subject to change. Any price and availability information displayed on amazon.com at the time of purchase will apply to the purchase of this product.