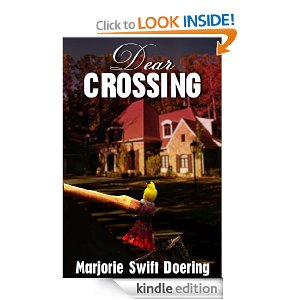 Today's FREE ebook is Dear Crossing (The Ray Schiller Series)
by Marjorie Doering.
The gruesome murder of a Minneapolis woman at her lakeside summer home shatters the peace of small town Widmer, Minnesota. While dealing with his own private demons, Ray Schiller follows the trail of evidence to Minneapolis where he teams up to investigate the murder with Homicide Detective Dick Waverly.

The scrutiny of the grieving widower's carefully guarded personal life threatens to ruin the executive's bid for his father-in-law's company. Driven by ambition, greed, love, and hate, one by one, the suspects turn on one another with startling consequences.
Don't have a Kindle?
This ebook is specifically for Kindles. However, you can download a free application which enables you to read Kindle ebooks on your computer, iphone, Android, Blackberry, iPad and more.
You can also download the same FREE ebooks for the Nook over at the Barnes & Nobles site!
Why pay for books when you can get them free? See more FREE offers!
Product prices and availability are accurate as of the date/time indicated and are subject to change. Any price and availability information displayed on amazon.com at the time of purchase will apply to the purchase of this product.