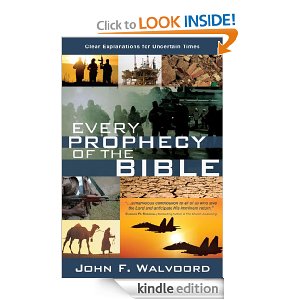 Today you can download Every Prophecy of the Bible: Clear Explanations for Uncertain Times
by John F. Walvoord for FREE on Amazon.  The regular price is $19.99 and can change back at any time.
As we watch world events unfold, biblical prophecy becomes a subject of intense interest. Every Prophecy of the Bible brings clear answers to more than 1,000 key prophecies, backed with solid Scriptural evidence. Noted biblical scholar Dr. John F. Walvoord covers each prophecy from Genesis to Revelation, giving detailed insight into the many prophecies that have been fulfilled, as well as those that are still to come. By placing each event into historical context, the author gives insight into how the past, present, and future fit together to form an amazing, divine design.
Don't have a Kindle?
This ebook is specifically for Kindles. However, you can download a free application which enables you to read Kindle ebooks on your computer, iphone, Android, Blackberry, iPad and more.
You can also download the same FREE ebooks for the Nook over at the Barnes & Nobles site!
Why pay for books when you can get them free? See more FREE offers!
Product prices and availability are accurate as of the date/time indicated and are subject to change. Any price and availability information displayed on amazon.com at the time of purchase will apply to the purchase of this product.