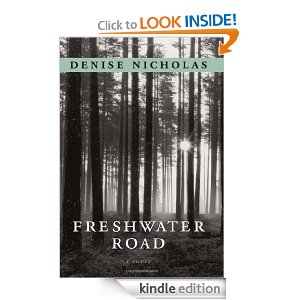 Today's FREE Kindle book is Freshwater Road
by Denise Nicholas. The regular price is $23.95 and can change back at any time.
In the summer of 1964, 19-year-old Celeste Tyree, straddling the strong race consciousness of her father and the race aversion of her estranged mother, takes time off from college and her white boyfriend, traveling from Michigan to Mississippi to lend her efforts to Freedom Summer. She ends up in the small town of Pineyville, helping to register voters and witnessing the kind of poverty and racism her father fought to leave behind. Her father, Shuck Tyree, owner of a successful bar in Detroit, is horrified at his daughter's recklessness and proud of her bravery as he wonders how responsible he might be for her decision. On the front line of issues regarding race, social change, and violence, Celeste is forced to confront all of her compartmentalized and comfortable notions about life. This debut novel by Nicholas, former star of the television series Room 222 and In the Heat of the Night, offers a sensitive and absorbing story of a young woman coming of age emotionally and racially.
Don't have a Kindle?
This ebook is specifically for Kindles. However, you can download a free application which enables you to read Kindle ebooks on your computer, iphone, Android, Blackberry, iPad and more.
You can also download the same FREE ebooks for the Nook over at the Barnes & Nobles site!
Why pay for books when you can get them free? See more FREE offers!
Product prices and availability are accurate as of the date/time indicated and are subject to change. Any price and availability information displayed on amazon.com at the time of purchase will apply to the purchase of this product.