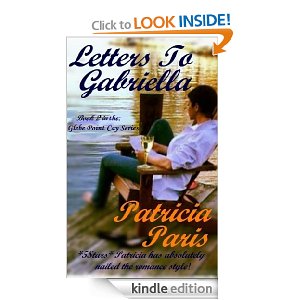 Download Letters To Gabriella (Glebe Point Cay)
by Patricia Paris for FREE on Amazon today.
For Gabriella Fiorelli, starting a new life with her young daughter in the sleepy town of Glebe Point Cay is just what she needs—no complications. But when she meets handsome lawyer Justin Morrison, complications are the least of her worries.
Passion and past collide in a delicate web of lies and love, and as Gabriella comes to grips with a heartbreaking choice, will her world come crumbling down?
Don't have a Kindle?
This ebook is specifically for Kindles. However, you can download a free application which enables you to read Kindle ebooks on your computer, iphone, Android, Blackberry, iPad and more.
You can also download the same FREE ebooks for the Nook over at the Barnes & Nobles site!
Why pay for books when you can get them free? See more FREE offers!
Product prices and availability are accurate as of the date/time indicated and are subject to change. Any price and availability information displayed on amazon.com at the time of purchase will apply to the purchase of this product.