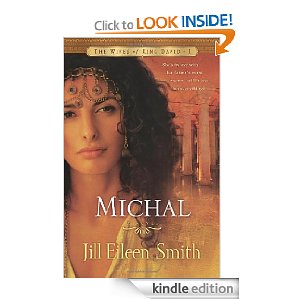 UPDATE:  This deal has expired
Download Michal: A Novel (The Wives of King David) by Jill Eileen Smith for FREE today.  The normal digital price is $13.99 and can change back at any time.
The daughter of King Saul, Michal lives a life of privilege–but one that is haunted by her father's unpredictable moods and competition from her beautiful older sister. As a girl, Michal quickly falls for the handsome young harpist David. But soon after their romance begins, David must flee for his life, leaving Michal at her father's mercy in the prison that is King Saul's palace.

Will Michal ever be reunited with David? Or is she doomed to remain separated from him forever?

Against the backdrop of opulent palace life, raging war, and daring desert escapes, Jill Eileen Smith takes you on an emotional journey as Michal deals with love, loss, and personal transformation as the first wife of King David.
*Amazon prices can change at any time.
Don't have a Kindle?
This ebook is specifically for Kindles.  However, you can download a free application which enables you to read Kindle ebooks on your computer, iphone, Android, Blackberry, iPad and more.
Product prices and availability are accurate as of the date/time indicated and are subject to change. Any price and availability information displayed on amazon.com at the time of purchase will apply to the purchase of this product.