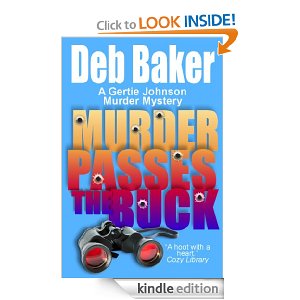 Your FREE ebook of the day is Murder Passes the Buck : A Gertie Johnson Murder Mystery
by Deb Baker.
When her neighbor is shot and killed, sixty-six-year-old widow Gertie Johnson seizes the opportunity to move on with her life by investigating his death. Gertie is abetted (and hindered) by her grandson Little Donny, man-hungry best friend Cora Mae, and word-of-the-day challenger, Kitty. It doesn't help that the death has been ruled an accident by the sheriff of this backwoods community in Michigan's Upper Peninsula. Or that Sheriff Blaze Johnson happens to be Gertie's son.
Don't have a Kindle?
This ebook is specifically for Kindles. However, you can download a free application which enables you to read Kindle ebooks on your computer, iphone, Android, Blackberry, iPad and more.
You can also download the same FREE ebooks for the Nook over at the Barnes & Nobles site!
Why pay for books when you can get them free? See more FREE offers!
Product prices and availability are accurate as of the date/time indicated and are subject to change. Any price and availability information displayed on amazon.com at the time of purchase will apply to the purchase of this product.