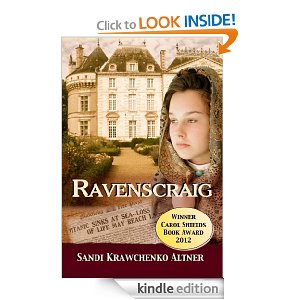 Today you can download Ravenscraig
by Sandi Krawchenko Altner for FREE on Amazon. The regular price is $9.99 and can change back at anytime.
Nothing is more important to Rupert J. Willows than the image he has built to hide the deep secret of his true identity. A master manipulator, the ruthless and charismatic Rupert buys his way into the upper class when he purchases the opulent mansion, Ravenscraig Hall. It is the turn of the 20th century in one of the fastest growing cities in North America. True power is within Rupert's grasp as long as his secret stays buried.
Don't have a Kindle?
This ebook is specifically for Kindles. However, you can download a free application which enables you to read Kindle ebooks on your computer, iphone, Android, Blackberry, iPad and more.
You can also download the same FREE ebooks for the Nook over at the Barnes & Nobles site!
Why pay for books when you can get them free? See more FREE offers!
Product prices and availability are accurate as of the date/time indicated and are subject to change. Any price and availability information displayed on amazon.com at the time of purchase will apply to the purchase of this product.