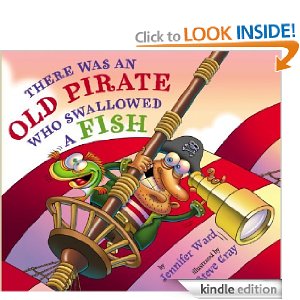 Today only you can purchase There Was an Old Pirate Who Swallowed a Fish
by Jennifer Ward for $1.99 – was $9.99!  My kiddos enjoy reading silly books like this.
There was an old pirate . . . who swallowed a fish, a bird, a map, some gold, and even a whole pirate ship! Will the Old Pirate sink to the bottom of the deep, dark sea? Yo ho ho! Watch his belly grow! Jennifer Ward's take on the "Old Lady Who Swallowed a Fly" song is perfectly matched with Steve Gray's zany digital illustrations.
Don't have a Kindle?
This ebook is specifically for Kindles. However, you can download a free application which enables you to read Kindle ebooks on your computer, iphone, Android, Blackberry, iPad and more.
Product prices and availability are accurate as of the date/time indicated and are subject to change. Any price and availability information displayed on amazon.com at the time of purchase will apply to the purchase of this product.