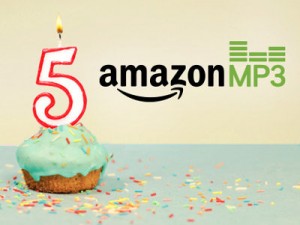 Still Available in case you missed it:
In celebration of Amazon MP3's fifth birthday,  you can get a song priced $1.29 or less for just a nickel. All you have to do is let your Facebook friends know what your favorite song is right now by typing it in the box below and clicking the blue button. The credit with automatically be added to your account.
*LuLu had a hard time deciding on our song.  She finally chose Whistle by Flo Rida 🙂
I always recommend using your credit immediately so you don't forget.
Upon completion of the "Share & Claim" action, a

promotional credit

to purchase any song priced $1.29 or less for $0.05 will be automatically applied to your Amazon account. Promotional credits must be redeemed by 11:59 PM PST on October 10, 2012. Amazon MP3 music is available to customers located and with billing addresses in the United States. You must have an Amazon.com account and accept the Amazon MP3 Store Terms of Use and Amazon Cloud Player Terms of Use to redeem your credit. Additional taxes may apply. Limit one promotional credit per customer.
Don't forget that you can download these songs/albums to your computer and add them to your iTunes account.
Product prices and availability are accurate as of the date/time indicated and are subject to change. Any price and availability information displayed on amazon.com at the time of purchase will apply to the purchase of this product.
Thanks, Coupons Are Great!