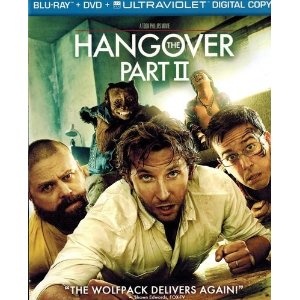 The first Hangover movie was hilarious, so I would expect nothing less from part 2. Order The Hangover Part II (Combo Pack: Blu-ray and DVD – Ultraviolet Digital Copy)
for just $8.75 – was $19.98!
Just when you were starting to sober up after The Hangover… along comes The Hangover Part II–a deft dose of hair of the dog that will keep fans of the original screaming with laughter once again. Director Todd Phillips brings back his great cast–Bradley Cooper, Zach Galifianakis, Justin Bartha, and Ed Helms for another splendid exercise in debauchery–and its painful aftermath. And perhaps surprisingly, The Hangover Part II keeps the laugh levels high. While the element of surprise is not here in the sequel, writer Craig Mazin, Scot Armstrong, and Phillips have upped the shock factor, resulting in humor that's sometimes not exactly politically correct, but is fall-down funny anyway. In The Hangover Part II, Stu (Helms) is marrying a Thai-American woman (Jamie Chung), and the entire wedding party is flying to Thailand for the ceremony.
Your order will qualify for FREE shipping with Super Saver Shipping on orders over $25 or with Amazon Prime.
Product prices and availability are accurate as of the date/time indicated and are subject to change. Any price and availability information displayed on amazon.com at the time of purchase will apply to the purchase of this product.