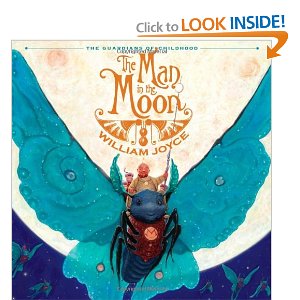 I know many of you have heard of the movie, The Rise of the Guardians, but did you know that it's based on a series of books?
Right now you can purchase The Man in the Moon (Guardians of Childhood)
by William Joyce for $12.23 – was $17.99!  This series came highly recommended and has great reviews.  I purchased this book and the 2nd in the series, The Sandman: The Story of Sanderson Mansnoozie (The Guardians of Childhood)
for the same price.  I plan to purchase the remaining books once I get more Amazon Gift Cards 🙂
Up there in the sky.
Don't you see him?
No, not the moon.
The Man in the Moon.
He wasn't always a man.
Your order will qualify for FREE shipping with Super Saver Shipping on orders over $25 or with Amazon Prime.
Product prices and availability are accurate as of the date/time indicated and are subject to change. Any price and availability information displayed on amazon.com at the time of purchase will apply to the purchase of this product.