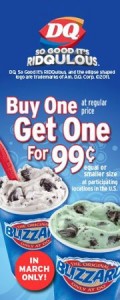 Yum – Blizzards!
From the Dairy Queen Facebook Page:
For the month of March at participating locations in the U.S. and Canada,* pick up a Blizzard® Treat for 99 cents when you purchase one of equal or greater value at regular price. No coupon required. Just stop into a participating location and light up the room with your Buy-One-Get-One for 99 cents smile.
*Promotion ends March 25th in Canada
*Participating locations only.