TLC Extreme Couponingwill air today, December 29th, at 8pm EST.  Nathan Engels (MrCoupon) along with three other couponers will be featured.  
They filmed a 15ft tall creation that was almost entirely donated to local foodbanks.  I love that TLC also filmed the giving aspect of couponing.  During TLC Extreme Couponing episode they donated around $6000-$7000 in product to a fantastic pantry!!!
An Extreme Couponing segment was also aired on Good Morning America this morning.  Make sure to spend a few minutes to watch the clip here.  All I have to say is, WOW!  I'm curious to see how TLC portays these clips. 
FYI:  I LOVE using coupons & the challenge of spending less.  However, I'm not extreme.  I would love enough tp to last the next 40 years, though 😉
Thoughts?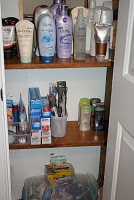 Looks kind-of wimpy in comparison
This was taken after my clean out for a donation in May