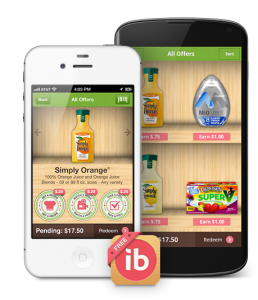 Here are all you current ibotta offers!  If you haven't signed up for ibotta do it NOW!  can You earn an extra $10 if you redeem 5 offers within your first 2 weeks of registering!  This is super easy to do as there are a bunch of awesome offers available right now!  Hurry! This is a limited time offer.
Your Favorite Offers – They're Back! – Any Store
EVOL Foods Entrees Any variety – Single meal size $1.00
EVOL Foods Burritos Any variety excluding Minis – Any size package $1.00
Ibotta Store Extras at Walmart
Tai Pei Asian Garden Asian entrées – Any variety – 1 ct. box $2.50

Ibotta Store Extras at Target
Van's Gluten Free Pancakes – Totally Natural variety – 8 ct. box $1.00
Van's Power Grains Waffles – 6 ct. box $1.00
New Bertolli Al Dente Single Serve Pasta Dishes – Any variety $.75
Red Baron Pizza Any variety except Pizza & Sides, Pan, and Single Serve $.50
Ibotta's First Movie Offer $5.00 – Any Store
Identity Thief Blu-ray Combo Pack Includes Blu-ray, DVD, Digital Copy & Ultraviolet $5.00
Ibotta Offers in the Ibotta Product Gallery – Any Store
Scotch  Magic Tape with Dispenser Any ct. $.50
Sargento Shredded Cheese – Any variety – 5 to 8 oz. size $.50
Krusteaz Pancake Mix – Any variety – 16 – 32 oz. box $.50
Snuggle Exhilarations Fabric Softener – Liquid varieties any size bottle $.75
Tabasco Pepper Sauce – Any variety – 5 oz. size $.50
Foster Farms Corn Dogs – Any variety – any ct. $.50
Playtex Tampons – 16 ct. or larger $.75
What is ibotta? Ibotta is an iPhone and Andriod App that allows you to earn money by purchasing products. Learn more about ibotta here & see a list of participating ibotta stores here.